Multicultural Center assistant director to challenge longtime city councilwoman
D'Angelo S. Taylor said he has always felt like the underdog.
Taylor, the assistant director of the university's multicultural center has announced he is running for the 2nd Ward seat on the Evansville City Council.
Taylor will challenge well-known long-time city councilwoman Missy Mosby in the Democratic primary in May.
"I feel like the underdog, but that's cool with me. I have been an underdog my whole life," he said.
Taylor said his parents did not always lead the best life, and his grandma raised him for several years. He is the first person in his family to get a college degree and master's degree, and he's currently working on his doctorate.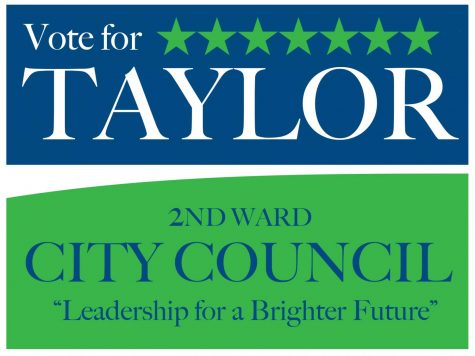 "I would one day love to be the favorite, but I can handle that. I see this race as one that is going to bring issues to the table, and we are not going to play the game of politics," he said.
Entering his third year with the university, Taylor was hired in June 2016 from Western Illinois University where he served as an admission counselor for three years.
"Part of the reason I decided to come to USI after being offered jobs at two other schools was that I felt like there was a lot of room for growth, specifically with the multicultural affairs area," he said.
While at Western Illinois University, Taylor was elected by a campus-wide vote to serve two years on the university's Board of Trustees, beating out his nearest opponent by just 27 votes. As a senior in college, he ran for mayor of the City of Macomb, Ill., but lost to Michael J. Inman in the nonpartisan election.
"I didn't win but some of the ideas I put forth then are now being used, at least the city now is becoming more progressive," he said.
In Evansville, the 2nd ward encompasses the southeastern side of the city.
"The reason why I decided to run is that I am a true believer in if you see an issue, be in a position to change it," he said. "That comes not only with consensus, but also comes with thinking about who you are elected to serve."
Taylor said people of the 2nd ward have been neglected in many ways because of politics in general.
"We have folks trying to gain favor in certain places of the city, and that has led to many, many bad issues," he said. "For one the raising of taxes, the person who I am running against has had a hand in that, a hand in not trying to fund affordable housing. We have a housing crisis here in the city."
His platform is focused on expanding Evansville's affordable housing.
"People who cannot afford to live in the city and not because they don't have a job, these are senior citizens who have worked their entire life," he said. "Social security is supposed to be set, it is supposed to cover your monthly expenses, and they can't cover them because either the properties are too high in rent. If they aren't too high in rent, let's say they have a home, well, the Vectren bills are very high even though they are talking about a monthly decrease."
Taylor said utility rates have skyrocketed as far as water bills, and they will continue to skyrocket.
"This is a middle-class problem," he said. "They drive the economy, and if middle-class people can't come to Evansville you will see a population decline over the next five to 10 years."
He said he is a strong believer in developing businesses in the city, and although the 2nd ward is residential, there are locations poised for development.
"We talk about the quality of life. The quality of life in the 2nd ward is good for some, but not for all. We talk about how E is for Everyone, but that's impossible when you look at what's going on in the city as far as taxes," he said.
Taylor said he would work with tax increment financing to bring businesses to the area.
"If you can't lure them to that area, whether it's land issues or proper space, at least make sure there is an effort to bring business to the City of Evansville," he said. "Emphasis on hiring workers in the 2nd ward, these are all issues that have been neglected for the past seven years by the current city councilor."
After doing soul-searching, Taylor said right now felt like a good time to throw his hat into the political fray.
"People tend to dig into your personal life, your past and everything I have done. That's okay with me," he said. "The reason I ran was that I feel like folks do not have a voice. When you have someone to provide that voice for you and they don't, it's a situation where you have to say, do I want to step up and do this and you know take this chance and help the greater good or do I want to sit back and say that's not my problem, and let someone else fix it."
Taylor said that not everyone can handle the stresses and requirements that come along with the public office.
"In my case, I have run for public office before, in this case, I am prepared to do so. It's going to be a tough uphill battle, maybe because of name recognition. She's an incumbent, the thing is she is very well known in some areas for good reasons, and others for not so good reasons," Taylor said. "So I know that the uphill battle that is going to take, I don't get into any election without truly understanding the landscape of what it's going to take to win."
He said he thinks there needs to be more of an emphasis on what is going on in the 2nd ward.
"The attention needs to be on what the constituents need and want to see, and that is missing," he said.
Taylor said after sitting down with many people in house meetings throughout the district, they all end up saying the same thing
"We can't talk to our representative, it is one of those things that is just not very well received, and they will say we were working on this already, a lot of them feel these issues need to be at the forefront," Taylor said. "In the past maybe that was a focus of someone who held this office, that's not what it is now. I pride myself on listening to folks and I am a problem solver, so I want to make sure that I am solving the problems."
He said his team is working to ensure he goes door to door at every house and listens to the issues.
"You have years where people are holding office, but nothing is getting done because they are not listening to what people are saying needs done," he said.
Taylor said he is at a slight disadvantage when it comes to campaigning because while he's working at the university, he legally can not work on his campaign.
"I get up around 6 a.m. and send some emails here and there, by 4:31 (p.m.) I am back at it," he said.
Taylor said if he wins he would still remain with the university.
"When you sit at those meetings trying to figure out how to create positive change, change can be both positive and negative, and it's how do you do that by understanding what initiatives there are to get that true voice," he said. "It will definitely help us get a good understanding of what's going on in the city, this is a true grassroots effort."
Leave a Comment