Honoring Stephen Pace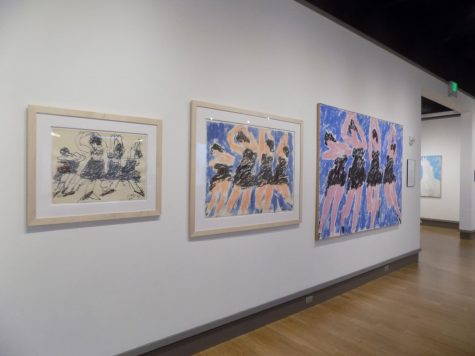 Susan Sauls said artists don't just sit down and create a masterpiece.
The university's summer exhibit, "Stephen Pace: An Artist's Process" features the work of Stephen Pace to celebrate the 10th Anniversary of the McCutchan Art Center/Pace Galleries.
Sauls, university art collection registrar, co-curated the exhibit. She said she wanted to showcase Pace's work because he is the patron of the gallery. Pace donated 245 works of art to the university.
Pace was born in Charleston, Missouri and spent part of his youth in New Harmony. After serving in World War II, he moved to New York to pursue art. Sauls said this is where Pace got into abstract expressionism, which inspired the loose brushwork in his paintings. Pace continued painting up until his death in 2010.
"Abstract expressionism is not subjective," Sauls said. "It's more of an expressive energy kind of feel."
The gallery features different versions of images that Pace created, including sketches, watercolors and the final painting.
"People are fascinated to see how the images evolved," Sauls said. "To identify what changes he may have made color-wise or design-wise and the decisions he made from beginning to end."
Sauls said she wanted visitors to take away an appreciation for the artistic process. She said that by the time you draw that final piece, you may have drawn that same image over and over.
"It may have taken years to really pull it together to get the idea you want," Sauls said.
Sauls said students should see the gallery just to experience the process.
"For our art students it's comforting to know that all artists struggle with their composition," Sauls said. "Even a great master like Stephen Pace."
Senior photography and art education major Hannah Spurgeon said she knew Pace was influential due to his artwork and the gallery space he provided.
Spurgeon said she found his artwork very calm and relaxed.
"He just moves with the flow of the medium he's using," Spurgeon said. "He doesn't manipulate it to something it's not, he uses it to convey what he wants."
Spurgeon said that the different versions of the same drawings convey different messages.
"In each year his style changes and what he feels is important changes," Spurgeon said.
Spurgeon said that the gallery could inspire incoming freshmen art students to get into the spring student art show so their work can be displayed in the gallery.
The other curator for the exhibit, Roxanne Burton, graduated from USI in 2012. Burton is a senior registrar at a fine arts shipping and handling agency and a James A. Sanders Gallery Fellow.
Burton worked as Sauls' intern when Sauls cataloged over 6,000 artworks from Pace in 2008. Burton said she noticed how the same images kept popping up in his works. She cataloged the drawings into sets where you could see the sketch, the watercolor and the final painting.
Burton said she discussed doing an exhibition on Pace's work when she was Sauls' intern.
"I didn't know when it would happen, but since I had done so much research on those images she contacted me, and we were able to work together on the exhibit," Burton said.
Burton said one thing that made Pace unique was his process.
Pace started from nothing, using coffee beans to paint barn windows and anything he could find in nature to create his artwork.
"Starting from that and prolifically creating more and more work and using the minimal amount of paint to get all these gestures is something that I think Stephen really embodied and pushed through his entire career," Burton said.
"Stephen Pace: An Artist's Process" will be displayed in the McCutchan Art Center/Pace Galleries until Sept. 10.
"Stephen Pace is a really in-depth artist that started very young and was able to take those details that he had throughout his life and put them in his work," Burton said. "There was always this passion through all his work, and I hope people are able to see that through this exhibition."