The next chapter
Bennett reflects on time at USI, hopeful for future
President Linda Bennett will mark her last day on the job come the end of June. Over the course of her nine years at the helm of the university, she has overseen growing enrollment, building of new facilities, and long-term planning.
Bennett said one of the things she will miss the most about the campus is its energy.
"It charges you up," she said. "There's no question that I will miss that."
As the university moves forward with projects such as the PAC renovations and the new Fuquay Welcome Center along with a 10-year master plan, Bennett said she hopes she has brought a feeling of excitement about the future.
"What I hope I have done is provide the foundation for the continued development of the university," she said. "The university is always a project in process so the work is never done so what I hope is that I have positioned us well along with an entire team of people. One person does not do this alone."
Bennett said when thinking about the future, the university needs to focus on multiple tracks.
"We have been used to in the past talking about how many students can we recruit fresh from high school graduation," she said. "That will continue to be important but I think what you are going to see is a growth in graduate programs both on campus and online."
She said it will be important to the university to offer ongoing educational opportunities for working adults as a source of growth.
"I can remember almost a decade ago, President Hoops used to have these opportunities to go out into the community and kind of see what is it we need to develop next," she said. "We are constantly assessing where do we need to reach out to and where is a market that needs some help or needs educational programming."
Bennett said that even that time a decade ago, there was a conversation about the need for more graduate programs and that triggered the growth of some graduate programs.
She said that if the region maintains its economic growth, graduate programs will start becoming a priority.
As president, Bennett has built a relationship with state legislators who are part of the southwest Indiana delegation. One of her responsibilities has been to go to Indianapolis and lobby the state legislature for more funding every budget year.
"I have had the opportunity to watch her grow this campus and mold this campus into a family so that people from all over Indiana, the United States, and even outside the United States want to be a part of that family," Wendy McNamara, a state representative for District 76, said at USI's day at the Statehouse in February.
Bennett said the legislators understand the power of USI in the region and that doesn't always happen at other universities.
"It's what stood out to me when I first came to USI in 2003 was just how excited people were about USI," she said. "We had strong support from legislative leaders who really helped to move support for USI during a very difficult time in terms of budgeting."
She said when she became president in 2009, her biggest challenge was moving USI forward after the economic collapse in 2008.
"It was a major challenge and fortunately I think folks on campus understood the challenge," Bennett said. "There were a couple of years that we could not offer salary increases and that's serious, but we have come through and I think we are on a good track and growth is possible so I am optimistic as I look ahead."
Bennett said the worst moment of her presidency was when she received a call at 10:00 at night informing her that former men's basketball player Jeron Lewis had died on the court during a game at Kentucky Wesleyan in 2010 due to an enlarged heart.
"I got to meet his family and coming to understand the impact of that tragic death on the family, on the community, on this campus, I think about that so often," she said.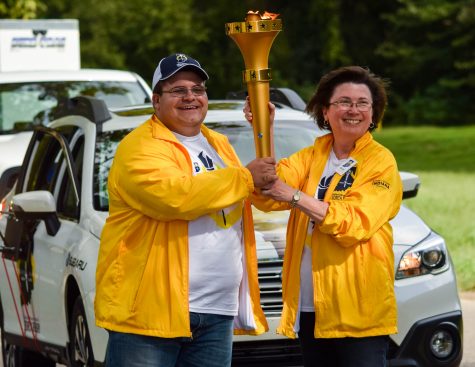 Bennett is the only female to serve as university president and she said she has received strong support from the community.
"Professional women in the region were wonderfully supportive and still are," she said. "I still get my occasional hate mail from this one guy who lived on the west side, he moved to Florida. He just sent me something about a month ago and it's just like 'you've messed up everything.'"
Bennett said she plans to stay in the area once she retires. She and husband Stephen have lived in Evansville for 15 years, which she said has been the longest they have lived anywhere together in their 41 years of marriage.
"Stephen and I have come to see this as home," she said. "I promise to stay out of the way. We've really rooted in. We love our home. We enjoy the community here and so we feel at home here."
Bennett said she plans to attend some sporting events after she leaves and will be sure to stay plugged in from time to time but looks forward to the next chapter of her life.
"I am so grateful for so many things along the way in terms of the kindness of people on campus and in our community," she said. "I think USI is in great hands for the future and I'll be excited to read what happens next."
Senior Vice President for Government Relations Cynthia Brinker announced her plans for retirement in January.
Brinker who previously served as vice president for government and university relations told The Shield in January that her decision to retire was not impacted by President Linda Bennett's announcement in Aug. 2017.
As university's top government liaison for nearly four decades, Brinker has worked with countless lawmakers and six Indiana governors. Brinker said the mechanics of how she does her job at the Indiana Statehouse has changed significantly over the years.
"That's because of technology, the Commission for Higher Education has done a wonderful job of streamlining what used to be a budget submission that was 100 plus pages long with lots of narratives, and now making most of it as low data in the computer."
Brinker said the process has changed to performance-based funding as opposed to being directly related to growth and enrollment.

"What happens in terms of making the presentations, it is still about relationships, working with members of the general assembly, working with the local delegations and executive branch that's all still very much a face to face kind of process you would go through."
Brinker was at the Indianapolis statehouse on Tuesday meeting with congressional representatives for the release of Phase II funding for the Physical Activities Center with construction set to begin spring 2019.
"You have to get through all these steps from when you develop the project to it being approved by the board, then through the commission and general assembly. This is like the culminating last step before we can actually go through with the project," Brinker said.
This will be one of the final major installations Brinker will oversee. The next group of university projects will be requested in the capital budget for 2019-2021.
Brinker said she works on projects far in advance and is currently working on future plans.
As for her successor, Brinker said it's important for them to work with members of the general assembly.
"Especially members in southwestern Indiana, they are a great group of people," Brinker said. "They are very supportive of the university."
Along with participating with other universities, Brinker said she works with legislators not just on the budget, but other pieces of legislation that could have an impact on the university.
"Really getting to know and understand the university and tell our story," Brinker said. "It's a great story to tell legislators."
Brinker said when Bennett became president in 2009, the university hosted a large lunch so she could meet families.
"Getting the new president out to meet people is key," Brinker said. "The good news is he already knows a lot of people unlike somebody brand new coming into the community since he has been here several years."
Brinker said at the university's retirement event, President Bennett joked about her having eight different titles.
At one point in her career, security, human resources and food services all reported to Brinker. She also served interim vice president for business affairs.
"The only thing I haven't been really involved in is academic side, but I work closely with them," she said.
"That made this so satisfying being able to get to go to a job every day that you enjoy," Brinker said. "There are so many things that need to be done, but at some point, you have to pass the baton to somebody else."
Brinker began working with Bennett when she was provost.
"That was pretty special that in of itself," Brinker said. "We have taken a lot of road trips together."
They often joke about being Thelma and Louise from the 1991 film.
"From riding down the highway to talking about how we should best approach things," Brinker said. "One thing about Bennett is she is just so very good at making presentations and working with others. She has never met a stranger."
Brinker said Bennett's openness has made for a really good working relationship.
"She was always open to listening to others opinions, especially if you weren't on the same page with her," Brinker said.
Bennett always knew that she was not on the same page when "Brinker did not blink."
"I do not think of her as my boss because she has been someone I can bounce ideas off of," Brinker said, "She could send me a message asking me something and always valued my opinion, which I think is important to feel you are contributing."
With alumni topping close to 42,000, Brinker said it is an amazing accomplishment that should not be diminished. She said she is proud of all of the work done by staff to help achieve the institution's vision, however she wants future administrators to remain diligent.
"We need to be mindful of those that came before us and what they gave to us," Brinker said.
"The local community, those are the people who supported us all these years, and I just think that's very important that we never forget that."
Brinker not only oversaw all government relations, but also the marketing side of the university.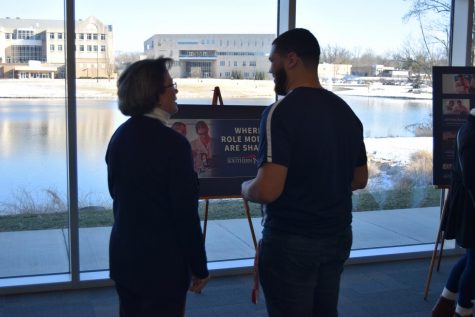 Up until about eight years ago marketing only had a budget of about $30,000 a year.
"We just realized there was a lot more competition to this area, and it was ripe to recruit students from, so that was a whole other area that is still developing in its infancy."
Brinker said early on students would just come, but since demographics have changed the university must adapt.  
As Brinker begins transitioning out, Kindra Strupp was recently promoted to the Vice President of marketing and communications and has taken over many areas Brinker previously oversaw including special events, alumni and community relations.
She said the importance of working together and sharing the common goal with her colleagues of seeing the university succeed is at the foremost of her final advice.
"I have always hoped they looked at me as working as hard as they did," Brinker said. "It's important to work together, the end product is more than one person, it's everyone working together."
Brinker also said to never forget to have some fun along the way.
"I have had some really fun times celebrating events in their lives," she said. "It is a family, it really is. I think that in some ways what is unique to this institution is we have often talked about how you convey that to the next group of people coming in, but we hear it, we hear it from our students."'
At the end of the day, Brinker said she believes she has had one of the most rewarding jobs on campus. She said you may never know where you will end up, but always take a chance.
"Don't be resistant to change because you do not know what is on the other side of the door," Brinker said. "I always say I think I have had one of the best jobs at the university. Just because I have gotten to meet so many people and represent the university."
Student Trustee Anjali Patel said she was sad to see President Bennett retire.
"(Dr. Bennett) and a couple of my friends would get lunch with her once a semester and she just kind of sits with us and talks with about her day and her life outside of academics," Patel said.  "That aspect I will miss just knowing that if there was ever a problem I could just go into her office and tell her something good about my life."
Patel said she thinks that President-designate Rochon will have the same open-door charisma.