'Into the Woods' stuns, captivates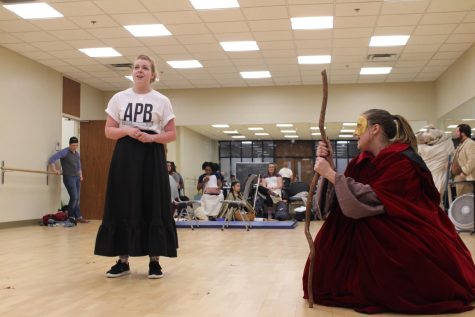 "Into the Woods" is of one of my all-time favorite musicals.
With that being said, I went to the university's production with high expectations— and they certainly did not disappoint.
While I want to say the Witch stole the show, I hesitate because I was impressed with every single person on the stage. There was not a single moment when every person wasn't acting.
The facial expressions of the Cinderella's dad had me cracking up. The father had very few lines, and he is usually off to the side, but he is the epitome of the expression that there is no such thing as a small role.
Every time I glanced over at him, he had some sassy eyebrow raise or eye roll.
I was so impressed with the set and scene changes. They were smooth and flawless, and the moving pieces with the rising towers and pieces moving back and forth were impressive and gave the entire show a nice feel.  
I want to give a huge round of applause to the Baker's Wife, who has immense talent. Every line she jam-packed with emotion and feeling. She had me dying with laughter and almost in tears. The Baker's Wife was utterly convincing–bravo.  
Of course, the Witch was phenomenal, but she has always been my favorite character. However, she made her funny like I haven't seen her before. Every time she showed up on stage with laughable impatience and urged on the arguing and incompetent characters, I had to smile.
I would also just like to say all the vocals were amazing. I know Cinderella's Mom was only on stage but once, but her vocals gave me chills. All the vocals were fantastic, but I have to say that Cinderella's Mom killed it especially.
I enjoyed the bit about breaking the wall with the narrator. Also, shout out to the narrator, he was hilarious.
The two princes were talented, hilarious, and showcased the chauvinistic attitude perfectly. "Agony" was wonderful.  
Jack, every time he used his cow as a block was great. I died when he said the bit about being tired and stretching his legs.
I apologize to all I haven't given enough credit to, but there is too much to mention. You all did wonderfully, and I was immensely pleased.
(5 / 5)
Leave a Comment