'Being a guardian of planet earth'
University talks preventing food waste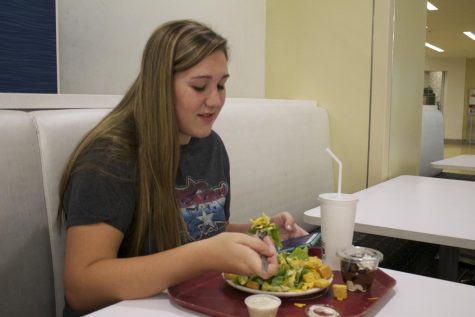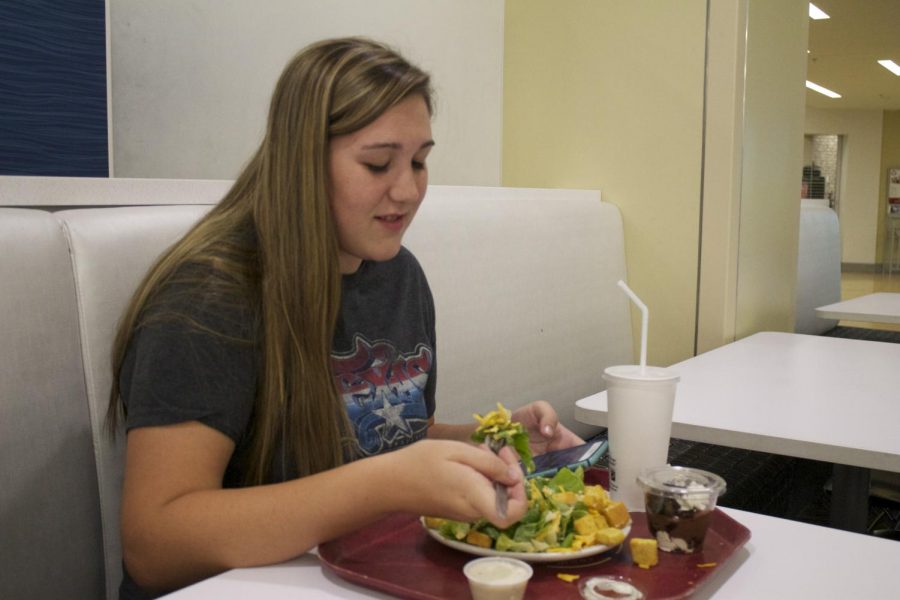 The Shield
The Shield spoke with Rebecca Diamond, the assistant director of dining services and Gregory Dilard, executive chef, about the issue of food waste and measures the university takes to prevent it.
The Shield: How does USI prevent food waste?
Diamond: Well, several years ago in 2012, when we did the last Loft renovation, previously to that it was an all you can eat dining hall, so you went in one door and you could get whatever you wanted. We saw a lot of waste that way students will tend – not all of them – to use their tray as their plate and they would just load it up, and at the end of the meal, a lot of it went to the dish return. So much so we even had our marketing specialist do a "weigh your waste night" so every time someone brought their dishes back to the dish return she would pull off all the edible food. She would take out bones, waste anything that was not edible and weigh it, and by the end of the night, we had couple hundred pounds of wasted food. So, in 2012 with the Loft renovation, that is when we decided to go with what we call it  "the center of the plate" so there is more of a better portion size and better entrée and then three sides and a drink with a meal plan, but there is not near as much waste. Because people are focusing more on that center of the plate and the sides instead of just loading up because they didn't want to get back up, and so with that so much ended in the trash. Also, the way we do stations in the Loft, so much of it is made to order, other than the hometown station…but most of the other stations it is made for you to get whatever you want in it. Meat, veggies, sauce whatever to order. So that really helps eliminate waste in those stations.
The Shield: So, you mentioned that you weighed the edible food in the past and it was about 100 pounds. Have you weighed it recently?
Diamond: We have not done that lately, but just from observing, I know Gregory might be able to talk better to it than me about what is coming back to the dish room, and if you go and kind of just watch the trays as they are coming back there, it does not seem to be as much left in my opinion.
Dilard: There is not as much left as it used to be, and the cooks now use production sheets. And so it gives them an outline of how much we will need in a day, and the needs of the day so we follow those. But still, students have a tendency to fill up their plate. Sometimes their eyes are bigger than their stomachs, so they have the center of the plate and they still go and get apples and bananas and some other stuff such as bags of chips, and those are things we see, the small extras that come back, not so much the food and protein, but maybe the drinks will come back and the chips and apples.
Diamond: I know I have seen apples and things before at the dish return or bananas, and I'm thinking "you could have taken that with you."
The Shield: Who is your vendor? Where do you receive items such as meat and vegetables from?
Diamond: Several different ones. So we use mainly Sysco out in Louisville, and Piazza does most of our produce, and we also can use Gordon's Food Service out in Shepherdsville, Kentucky.
The Shield: So then what exactly happens to all of the food that is not consumed?
Diamond: Well it depends on what it is. If it's something that can be donated then we donate it. A lot of the things that come back such as the hometown station, it is not something that we can continue to use. Like broccoli only lasts so long and then it is not reusable.
The Shield: So you donate it to people in Evansville?
Diamond: The rescue mission, we usually do that when it is a large amount. Such as if we had a catered event or at the end of spring and fall semesters, we try and whittle down towards the end of the semester so we don't have product left, but if we do have a lot of produce that we know we are not going to be able to use before it goes bad, we will call the rescue mission and tell them what we have and they bring a truck out and we donate it.
The Shield: How much food do you order, and how often do you order?
Diamond: We order from Sysco twice a week. We can order from Gordon Food Service twice a week. We can order from Piazza three times a week, and they are all just ordering what they need to sustain their units. So in total, thousands of dollars a week, and also it depends on what is going on. It is kind of tricky right now because even though the Loft is winding down, we have a lot of catering events going on with commencement coming, so what we are ordering might be changing, but the dollar amount could be staying the same.
The Shield: What problems do you have with ordering too much food if you are in that predicament?
Diamond: I do not think we have had too many issues with ordering too much food. I mean our inventory sheets and order guides have pars so it lets whoever is ordering know if that is what you have and what is the goal, so that tells them what they need to order.
The Shield: You mentioned in the past having someone weigh how much food was still edible, so what were the problems?
Diamond: For us, that was more of a sustainability or being a guardian of our planet earth. Like even though we were getting paid for that food, it really wasn't anything to us, but to do the right thing and seeing that much food being wasted, it breaks your heart. Especially when you are in the foodservice industry, but you know what is going on in the community with people that are homeless and people that don't have enough to eat and then seeing all that food go to waste. It is sad.
Dilard: We have also tried to watch portion size. I know that a lot of restaurants and fast food restaurant have gone to bigger sizes, so they think the more you put on a plate, it is a good thing. But we watch portion control as well.
The Shield: At some restaurants, they put the calories of each meal on the menu, does USI do that?
Diamond: Yes, all our menus have calorie content next to the item, and the retail units. Even the Bite app, that you can download on your phone has additional information. Even though the menu only shows calories, with that app, if there were someone that needed more information, there might be a printed version.  I don't have anything else to say about food waste, but with sustainability and keeping things out of the landfills, everybody probably knows that we went with that Ozzi system for the to-go containers, so that is a way to be mindful of planet earth.