Rochon named USI's fourth president
After a national presidential search, The Board of Trustees has voted unanimously 9-0 to approve Provost Ronald Rochon as the university's fourth president, replacing Linda Bennett.
The announcement was made at a special session of the Board of Trustees April 19 following an executive session on April 10 at Old National Bank.
The search committee reviewed over 90 candidates and narrowed it down to four finalists which were presented to the Board for a final decision.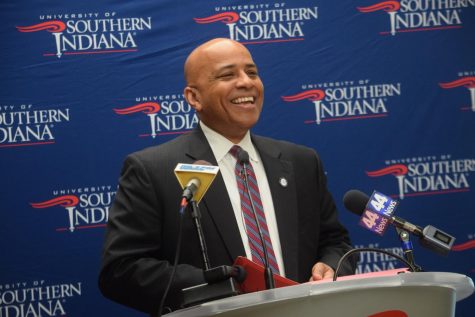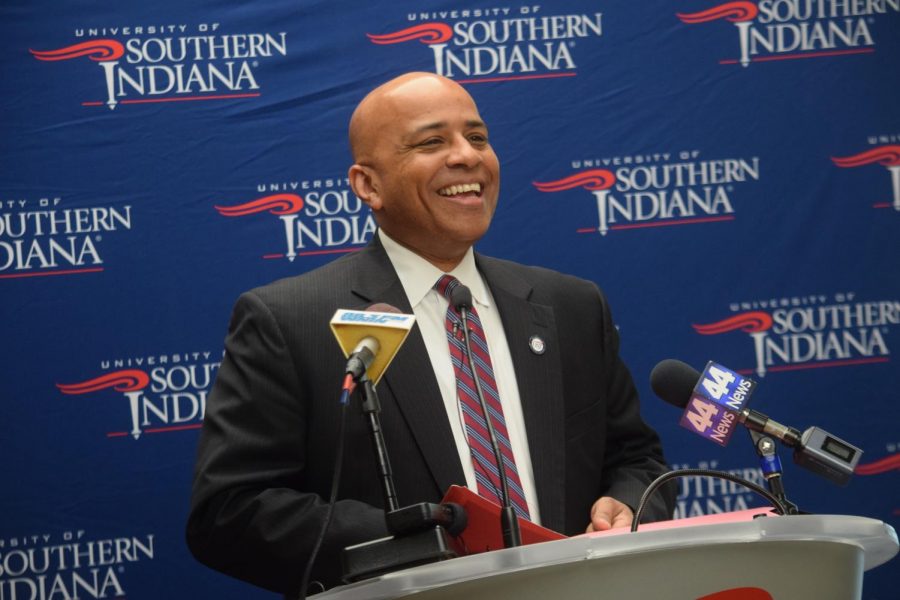 "The candidate pool ranged from sitting university presidents to executives from outside the higher education landscape," Board of Trustees chairman Harold Calloway said. "The committee narrowed the pool to four finalists, which were presented to the board for a final decision. In the end, it was one of our own who rose to the top as the best position and most qualified to lead the university."
Rochon will succeed current president Linda Bennett, who has served as USI's third president since 2009. He will officially assume his duties as president July 1.
Bennett, who also served as provost prior to becoming president, hired Rochon as provost in 2010. As provost, he led the creation and approval of the university's second doctoral program in Educational Leadership and oversaw the revamping of the Core Curriculum and UNIV 101 seminar course.
"This is one of the happiest days of my life," he said. "This is a happy and exciting day for me and I am hopeful that this is a happy and exciting day for the community as well."
Rochon said his ultimate goal for some time has been to be a university president. his biggest challenge going forward will be the interpretation of higher education by people who are disconnected from universities.
"Just conveying to people in the community both near and far that this is an investment that will transform the lives of young people," he said. "Just communicating the importance of higher education is going to be an ongoing challenge nationally and it's something that I welcome."
Rochon will be the university's first African-American president and he said it speaks boldy about the American dream.
"I am not the diversity president, I am not the diversity voice, we are collectively," he said
Rochon said he will name an interim provost when he officially becomes president in July. He said the university will conduct a national search for that position.
He will also be tasked with finding a new Vice President of Government and University relations as current Vice President Cindy Brinker announced her retirement effective June 30.
"We are still early in that," Brinker said. "There are certain things that Dr. Rochon wants to do in terms of meeting people."
Brinker said she was not overly surprised by the board's decision and Rochon, out of all options, was the right choice for the university.
"He knows the institution," she said. "Obviously there are parts he hasn't been as involved in as others. He is more focused on the academic and student side, but he is a quick study, he will be fine."
Brinker said the final decision on reaching out to those individuals that could potentially be her successor will be made following commencement and the May 8 primaires. Her advice to president-designate Rochon is to always remember where the university came from.
"Always remember this institution, why it was built and who we are serving," she said. "(Former president) Dr. Rice was certainly an exceptional visionary, the glass was always half full never half empty. He saw things that could happen way down the road. We built buildings, built housing, but more than anything we helped improve the lives of our many students."
Rochon said he is grateful for the opportunity to serve alongside other faculty and staff.
"I am so appreciative of the campus community as well," Rochon said. "Folks who have worked with me over the past eight years and given me just an amazing opportunity to grow and learn and develop with them and also this institution."
Rochon said he will "without question" support student media and the freedom of the student press is important in regard to any public institution.
"Listen, the one thing that has been important to me is the ability for students to work on our campus and seek journalistic opportunities, to develop, and also become stronger with their craft," Rochon said. "That's going to be important in how they work and who they become. And then also what's most important is they will have mentors like you all who have access to people who can pepper them to do the job and do it well"
Prior to coming to USI, Rochon was the inaugural dean of the School of Education and the associate vice president for Teacher Education at Buffalo State University.
He earned a bachelor's degree at Tuskegee University and master's and doctoral degrees from the University of Illinois at Urbana-Champaign. His doctoral work was in educational policy studies, with an emphasis in education history and policy analysis.
Rochon not to live in university home
President-designate Ronald Rochon will become the first president not to reside in the university home. All three previous presidents' Rice, Hoops, and Bennett lived in the 5,000 square foot home on the outskirts of the university.
At his initial press conference Thursday, Rochon said he has no intentions of living in the home, rather he wants to use it for more community-based events.
"Right now the university home is going to undergo some reconfiguration, sometime soon but not immediately," he said. "I have some ideas with the Board of Trustees on how we are going to celebrate that home and use it as a special way to celebrate initiatives for the university."
Located near the Griffin Center off McDowell Road, the two-story house includes a full sized basement, private office, and two separate kitchens, including one which is explicitly used for Sodexo catering.
The home was built in 1983 after the university's Board of Trustees wanted a "24/7 faculty presence on campus." a common practice among most universities, former vice president for business affairs Mark Rozewski told The Shield in 2009.
Both President H. Ray Hoops and David Rice lived in the home and used it as both a residence and means of entertainment.
Archivist Jennifer Green said in the early days of its inception, all faculty staff meetings were held in the home. Often times Betty Rice, wife of former president David Rice, would have home-cooked meals prepared and entertained in the main reception area on the first floor of the home.
The home has served as a private residence and public facility since it was purchased by the university foundation in 1983. It underwent major renovations in 1994, entirely funded by private gifts.
President Bennett told The Shield in 2009 that the home's proximity to campus will allow her to maintain a presence at the university, including making appearances at plays, speeches, presentations and athletic events and also serve as a place for constituents.
"Guests will include friends of the university, such as donors, but also students, faculty and staff," Bennett said in 2009. "It builds a sense of connection and the president opens the home to members of the of the campus and surrounding communities."
As for Rochon, he said he wants to continue a tradition of collaboration by using the home for revitalized community engagements.
"The best part about the title of it is the 'university home,'" he said. "It is not just the president's home, so we are excited about new ways and initiatives to utilize and see that space and fulfill its mission."
Reaction
Student trustee Anjali Patel said the decision to approve president-designate Rochon shows a lot about the university's commitment to diversity.
"His accomplish has shown a big step for USI," she said. "I think he will be well at recruiting a more diverse student body and already as provost he has shown a lot about bringing diversity to campus."
Patel said Rochon's commitment to the student-body stood out in interviews during the early selection process. `
"In every step of the process Rochon always answered questions based on his student-centered approach," Patel said. "I found that pretty refreshing honesty, and you can see him as provost he has been very involved in student life, in saying hello to students."
Patel said the closed-process would have produced the same field of candidates had it been public. She said that out of all applicants to be interviewed Rochon was best suited and did a good job presenting himself on how best to build the university and its culture.
"I feel like a lot of people had an expectation that Dr. Rochon would be the next president I definitely didn't, and I know other trustees did not," Patel said. "I do think it was a fair process. It would kind of be a waste of time for all of us if there was some kind of preset notion. I am very confident this was the best choice to go with given the candidates that we had."
SGA president-elect Bradley Flittner said he wasn't surprised Rochon was chosen and he believes he will do a "phenomenal job."
"I don't think anybody could replace Linda Bennett, but if I had to pick anyone to I think I would choose Dr. Rochon," he said.
Soo Sung Chung SGA International Student Member at large said Rochon has been supportive of International students during his time as Provost.
"He has been really supportive of International students," Soo Sung Chung, SGA International Student Member at large, said. "You can stop any International student and they will have something positive to say about him."
Associate Provost of Student Affairs Marcia Kiessling said she was aware Rochon aspired to be a president and believes he will make a great president.
"He's a hard worker and he's smart and he is so student concerned," Kiessling said. "Dr. Bennett and Dr. Rochon put student needs at the forefront of their decisions. I have seen that with Dr. Bennett and I think we will see that continue with Dr. Rochon."
Kiessling, who Rochon hired in 2011, said he along with Bennett understands the value of all areas of the university and places an emphasis on academics. "I think that's an advantage for Dr. Rochon coming in as president. He has just a really good sense of where the institution is and strategic goals and mission of the university."
Kiessling said Rochon has been supportive of student affairs and brought new ideas and policies to the university.
"He worked really hard to bring student affairs and academic affairs together in terms of their ability to collaborate and understand what each other are doing," she said. "When I started we didn't have the policies in place that support students in distress. He was very interested in us ramping up that area."