'A better future for everyone'
Students raise money to promote literacy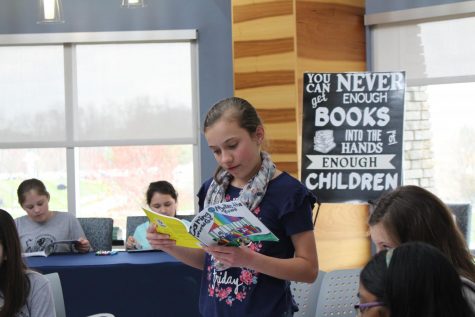 After the election of President Trump, Evelyn Solano watched her twin sister get punched by a boy who told her that Trump was the president now.
"It made me realize that not everyone is treated equally," the eighth-grader at Castle North Middle School said. "Whether it is because of your age, gender, race or ethnicity."
Solano was one of the 32 middle schoolers at Castle North Middle School to participate in the book launch for "Caring Makes the World Go 'Round" that took place at the university Tuesday afternoon.
The 32 kids are part of a club called GenerationOn that meets after school. The club focuses on service in the community.
This year, the club decided to focus on literacy within the community, by partnering with the Dolly Parton Imagination Library, which is an organization that gives books to underprivileged under the age of five. Children who are qualified for the program receive one book a month.
All proceeds will go the Dolly Parton Imagination Library.
The club of 32 students each wrote a limerick, with the help of university students in ENG 412, Writing For the Professions, and created a book to sell. While this is the second time the middle school has created a book, it is the first time the club has partnered with the university.
Solano chose equality as the theme for her limerick.
"I saw a lot of quotes," Solano said. "But the one that jumped out to me was by Criss Jami. The quote said, 'When I look at a person, I see a person—not a rank, not a class, not a title.'"
Solano said she wanted to be able to tie in her experience with bullying and the theme of equality, but she wasn't sure how to do it.
"When someone bullies someone else, it is because they think they are better than that person," Solano said. "It makes the other person insecure. Just because you have more money or better clothes, it doesn't make you better. Young, old, rich or poor, I think we should find the beauty in it all and make a better future for everyone."
Alex Abrams helped Solano with her poem.  
The senior professional writing and rhetoric major was one of the seven students in the ENG 412 class that helped the middle school students write, edit and format their limericks.
Abrams said that Evelyn had a beautifully written limerick and he only had to edit it slightly.
"It is inspiring to see middle school students so invested in this because not only do they believe in the character traits: peace, equality, happiness, health, but they are enthusiastic about the Dolly Parton Imagination Library Foundation," Abrams said. "It was inspiring for me and also reassuring that kids with that moral quality are going to be adults someday."
Abrams said he and Solano went into the collaboration as equals.
"We were able to talk about these topics on an adult level," Abrams said. "We were able to talk about the implications of the ideas, about what they meant to them personally, and what they meant to me as well."
Abrams said the effort is helping Dolly Parton achieve her goal, if only on a small scale.
"We are combining middle school kids and college kids," Abrams said. "We're combining people of different backgrounds and educational levels to work on something that directly benefits not only the community but the country as a whole."
Abrams said the experience inspired him to care more.
"As the title of the book suggests, caring makes the world go 'round," Abrams said. "It's easy in today's political climate to draw back and not to care because it's hard to care sometimes but they gave me hope that if enough people do care and enough people work together and collaborate to make a difference, then the world will become a better place."
Darlene Short said the middle school students hung onto every word the college students said.
The sixth-grade language arts teacher at Castle North Middle School said her students felt so special coming to the university.
"It's difficult to put into a few words how much it meant to them and to me," Short said.
Short said this experience has given the students in the club a confidence she cannot teach in the classroom.
"These students have talked with principals, neighbors and businesses about buying this book," Short said. "I don't think they realize how much of a difference it has made on their communication skills."
Short said she has been incorporating service into her teaching for over ten years.
"It's amazing what it does for the kids," Short said. "It creates a level playing field and cultivates a desire to help others."
Solano said she hopes her poem teaches kids that all people are equal.
"If parents or grandparents read this to their kids or grandchildren, I just want their kids to know that everyone is equal," Solano said. "There's no difference. It doesn't matter your shape or size or what you look like or your skin color. Everyone's the same."
Leave a Comment