'It's an epidemic'
Annual event raises awareness of sexual assault victims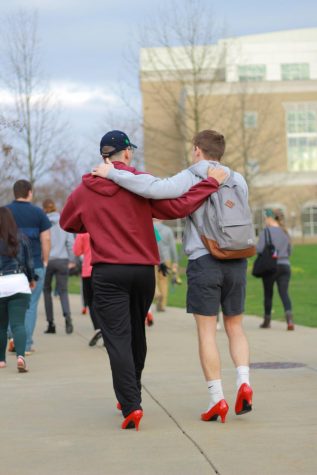 Jalon Dowell
Legs wobbled like newborn fawns as men trekked through campus in shiny high heels.
Many laughed and tried to see if they could run in their new pointy-toed shoes as others gritted their teeth and held their arms out for balance. A police officer and an attorney even joined in the mile walk.
The unusual sight was in honor of the annual Walk a Mile in Her Shoes event, which celebrated its twelfth year Tuesday afternoon. The walk is part of an international men's march to stop rape, sexual assault and gender violence.
People from the Evansville community meet at the university every year to spread awareness. Men have the opportunity to walk a mile around campus, wearing their choice of heels.
Crisis intervention specialist Jody Carpenter said you never know what it is like to walk in someone else's shoes.
"I know sexual assault is alive and well, and people like to pretend it's not there," she said. "Almost everyone probably knows a victim and it isn't only for women. It helps men and women. Men are also survivors of sexual assault. It's an epidemic."
Carpenter said she strongly supports the message of speaking up about sexual assault and gender violence, even if an incident may seem small.
"Men have a hard time finding the right heels," Brad Flittner, a junior management major joked as his friend Brice Miller, a sophomore business administration major, struggled into his heels.
It was Flittner's first time participating in the walk, while Miller had already gone through the event once before.
"The first time, it was really difficult," Miller said. "I remember feeling vulnerable because you can't really run without taking the shoes off. It made me think of what could happen if someone was running away from a predator in them."
Luke Parker said he has previously participated in the event for four years and while sexual assault is an uncomfortable topic, it is an important one to discuss broadly.
The senior biology and philosophy major has two sisters who have been the inspiration for his participation.
"I was always taught you should treat women like you would treat your sisters," he said. "This helps me see how girls feel. My sisters think it's funny."
After the walk had commenced, business administration graduate student Andrew McGuire took his heels off to let his cramped feet breathe.
"My heels were a little too big and difficult, but it's fitting for the occasion," he said.
It was his first year attending the event, and while the walk was a bit hard with his wrong-sized shoes, he was pleased.
"It was a fun way to tackle a serious topic," he said. "It's obviously helping to spread awareness for gender violence and sexual assault."
Assistant Program Director of Student Wellness Catherine Champagne said she was pleased with the turnout of the event and the men's participation.
"The event is about encouraging all members of the community to find a solution,"  she said. "We want people to walk away with ideas of how to help. We get a lot of different people and groups involved."
Champagne said she highly encourages people to volunteer in the Sexual Assault and Gender Violence student community on campus by contacting volunteers such as junior social work major Hannah Johnson and sophomore social work major Katelyn Vinci.
Johnson says that the group is always looking for new members and volunteers.
"Be informed about various events on campus and don't be embarrassed to join the group," Johnson said. "People think sometimes that it's a taboo subject."
Sexual Assault and Gender Violence student group advised others to always report incidents of sexual assault and violence. When it comes to sexual assault, Jody Carpenter said she feels that many people believe that women are the only victims.
"I feel this event has been showing solidarity with women and giving them a voice," she said. "And assault isn't just a women's issue. It affects all genders."
Leave a Comment