Election committee votes to remove candidate from ballot, will appeal decision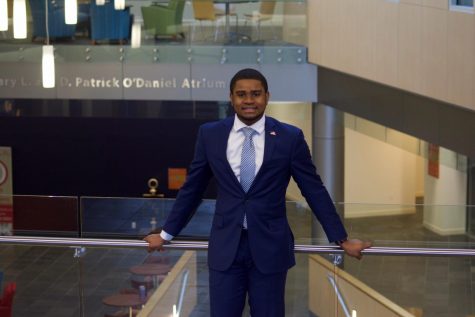 The university election committee voted March 22 to remove Student Government Association presidential candidate Trevion McFarland from the ballot on charges that he campaigned outside of the campaign period set by the committee, interfered in the election process and disrupted the integrity of the election.
SGA Attorney General Virgilio Paulino, who acted as prosecutor at the hearing held Thursday, said McFarland held meetings outside of the campaign period which began in February. At one of these meetings, McFarland discussed having people who supported him join the committee in order for him to influence the election along with stealing debate questions, copying ballots and sending them to friends and family and eliminating people within the ballot.
Paulino said McFarland insulted and threatened members of SGA and mocked their sexual orientation. He also said the oath, which every member of SGA must take, to respect and uphold the integrity of the organization was broken.
"All of these things showcase that he had clear intent to rig the spring elections and it violates the bylaws," Paulino said. "The actions that Trevion committed are detrimental towards the sense of safety, respect, inclusiveness and integrity that this organization has been built on from generation to generation."
Paulino also said to the election committee that this is not the first time SGA has had issues with McFarland. He said text messages were sent to other members of the organization trying to convince them not to vote people into SGA.
McFarland also held meetings with other freshman representatives last academic year about a bylaw that would drop the semester coursework requirement to run for president from three classes to two because "we wanted to give everyone an equal playing field."
Charges of impeachment were going to be brought up against McFarland in January for persistent violation of rules, slanderous and insulting remarks, threats to hurt a member, disobedience to instructions, defrauding or cheating the organization, and conspiracy.
McFarland resigned before being tried for impeachment.
He was one of three candidates running in the spring election brought forth by the election committee to determine whether they would remain on the ballot.
The other two candidates, Sarah Seward-Genung, a junior political science major, and Charlie Peters, administrative vice president for external relations, were subject to the same charges as McFarland, however both were found not guilty by the committee and are allowed to run in the election.
Seward-Genung, who is running for attorney general, said that although she has respect for the student government executive board and every member of the general assembly, she believes the entire process was handled inappropriately.
She said she thought the hearing was unfair and her resignation served as enough punishment.
Seward-Genung said the reasoning behind her resignation was so she wouldn't have to go through the impeachment process and could still run in the election.
"If I had known that this could still happen, I would have gone through with the process originally and not put myself through all of this," she said.
Peters, who did not resign and remained within SGA, was brought up for impeachment with the university court two weeks after she brought a recording of a meeting between McFarland, Seward-Genung, Grace Poynter, a junior political science major, and Peters to the executive board.
The court chose to not to remove Peters from SGA and she was given a formal warning.
McFarland was notified of the election committee's decision to remove him from the ballot Monday. He said he plans to appeal the decision to the university court and has a hearing Tuesday.
McFarland will remain on the ballot until a decision is made by the university court. He said he will continue to campaign and will participate in the debate between him and his opponent, Bradley Flittner, a junior business management major,  scheduled for 6 p.m. Thursday in Kleymeyer Hall.
McFarland's Response
McFarland denied any claims that he intended to rig the election or harm any members of SGA.
"It's impossible to make copies of the ballot because the ballot is sent through an email," he said. "I could forward that email to someone, but what good would it do, because no one could use the same code or login with the same access."
McFarland said he has never threatened or harassed anyone, and that for people to claim he did those things is "disheartening" and they are "erroneous statements."
"If you know me, if you know my true character, then you know that's not me," he said. "If you think I'm mean, then that's just how you perceive me being."
Former SGA representative Alicia Frederick served alongside McFarland last year and said he had slandered her and tried to keep her from joining SGA this year.
"He has essentially been bullying me for the past couple of years," she said. "I am not comfortable with him even running for Student Government president because of how mean and hateful he can be. You can only go so far before it's just malicious."
McFarland denied he ever bullied Frederick or attempted to keep her from joining SGA.
"I never texted anyone about Alicia Frederick," he said. "This is personal for her. I have never said anything to Alicia Frederick that is intimidating, that is threatening."
Grace Poynter said at the election committee meeting that she wanted to join SGA this year because McFarland had spoken so highly of it, but was "bullied out of it by a member of the SGA."
Poynter said when she reported the incident to the attorney general it never made it past the SGA office.
"Trevion and Sarah were the only two who actually sat me down and told me they cared about the problem, and I have no interest in running for a position in SGA now because of how attacked and harassed I felt by members," she said. "I have never in my life met such a genuine, humble, God-driven, politically-driven man. (McFarland and Seward-Genung) have inspired me along with dozens of others to be passionate about using my voice here on campus."
McFarland claimed that two of the three members on the election committee were known supporters of his opponent, and therefore they were biased against him.
Election committee member and SGA Executive Clerk Lonna Dippel can be seen wearing a Flittner/Anderson campaign shirt on the campaign's Instagram account, flittneranderson2018.
"Every time I tell the Dean of Students Office that this is unfair, they choose to do nothing about it," McFarland said. "They aren't blind. They have to see that Lonna Dippel is Brad's best friend. They have to see that Charlie Peters and Megan Jackson are friends."
He also said he resigned instead of going through the impeachment process because of biases and the odds being stacked against him.
"This is funny how all of this, everything from point A to point B are Brad's people doing it, his people talking about it," he said. "The bullseye has been on my back since last year. I have been walking a fine line in SGA."
Presidential Opponents
McFarland said he met with Flittner, who is currently the executive vice president of SGA, and President Katelyn Bueltel at the beginning of the academic year to make sure the same problems didn't arise this year.
"I told him that I was hoping that moving forward, we are going to be able to achieve the same goal, which is to have the smoothest running SGA we can and to represent the students as best as we can," Flittner said. "He was looking to clear the air and I was not. I am not interested in repairing any relationship. I just think it would be best to move on and keep it professional."
Flittner confirmed that he denied a request to meet with McFarland and Seward-Genung, citing he did not want to talk with them on a personal level because he thought it would be inappropriate because they are opposing candidates.
"There are lots of things that he has said about me and lots of things that lead me to believe, on a personal level, I'm going to choose to not affiliate with him," he said. "I am going to try to separate my personal life from my position in SGA."
Flittner said he has heard the recording of the meeting. The recording is said to contain a part where McFarland mocked Flittner's sexual orientation.
McFarland said he apologized to Flittner for the comments he made and "anything else that I have ever done to offend or hurt him in any fashion."
Flittner said McFarland apologized for the situation, but not specifically for what he said.
Flittner said he believes the executive board has done a phenomenal job keeping the information as confidential as possible.
He said the situation will not affect how he campaigns for president and claims that nothing that he has said has been negative towards McFarland.
"We are at a point where I think it has gotten very out of hand, but I think that has very little to do with me as a candidate," he said. "I could have told lots of people, but I chose to run on a platform to highlight myself. I didn't want to bring down Trevion. I still don't want to bring down Trevion."
Claims have surfaced that McFarland made homophobic remarks in the past and reportedly compared people in the LGBTQ community to people with mental disabilities.
He denied that he is homophobic and said he is in full support of the LGBTQ community.
"I do not believe Trevion represented that meeting very well. I feel like he was trying to paint himself in a light that he was pro-LGBT when his past actions would not confirm that," senior science teaching major Jonathan Thomas said.
Thomas said he hopes McFarland is not anti-LGBT but believes he is uncomfortable with it and is not fighting for LGBT issues.
"It shows he's unprepared to deal with student concerns, especially on an inclusivity platform," he said. "The student body president is supposed to be a representative of all the students, and hopefully they would display what it means to be a member of the community"
The Recording
The executive board was aware of the confidential meetings between McFarland, Seward-Genung, Poynter and Peters because of a recording of a meeting that was given to them by Peters, who said she brought the information to the executive board days after the meeting. She also told the executive board before the meeting took place that she would be recording it.
"I attended the meeting with Charlie Ann Peters, Grace Poynter and Sarah Seward-Genung," McFarland said. "We did discuss the elections, and we took responsibility for our actions by resigning and apologizing."
Members of the election committee did not have access to this recording and neither did the impeachment jurors for the trials on McFarland, Seward-Genung and Peters. Laurie Berry, the assistant dean of students said the DOSO has not heard the recording, but only had access to a transcript of some of the statements in the recording.
"I have seen no evidence," McFarland said. "I have heard no recording. No one has heard the recording."
Peters did not provide The Shield with the recording or a copy of the transcript.
"I morally felt that it was something the student body and SGA needed to know and that the election committee also needed to know once elections did start, and I felt like the only way to get proof of that was to record the meetings," she said. "I feel like if you don't have proof of it, then it's all hearsay."
Peters said she felt like she did what she had to do to protect herself. She said she has talked to Trevion and Sarah with a mediator through the DOSO because of "hostile conflicts" between them due to her turning them in.
"What Charlie did was not done out of honor," McFarland said. "It was done with malicious intent and spite."
Despite the situation, Peters said she has respect for them and doesn't blame them.
"One of the biggest things that I have done to try and calm things down is to not talk about it," she said. "Because the less that I talk about it and the less that I talk to other people about it that aren't within SGA and that aren't directly related to the situation, the less that it gets spread."
McFarland said the whole process has been handled poorly, and there has been no confidentiality.
"There has been so much scrutiny and so much shit said about me in the last three and a half, four weeks, but I am still in this race, I still go to class everyday, I still walk on this campus everyday," he said. "I am going to continue to fight. If they want a shit show, they've got one. It's on now."