Exhibit blends creativity with everyday objects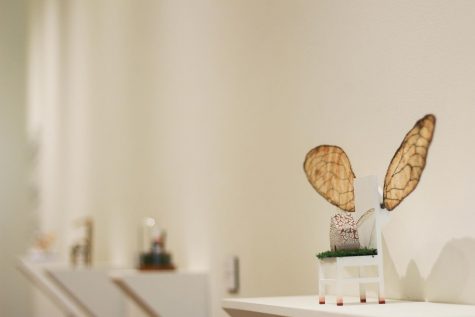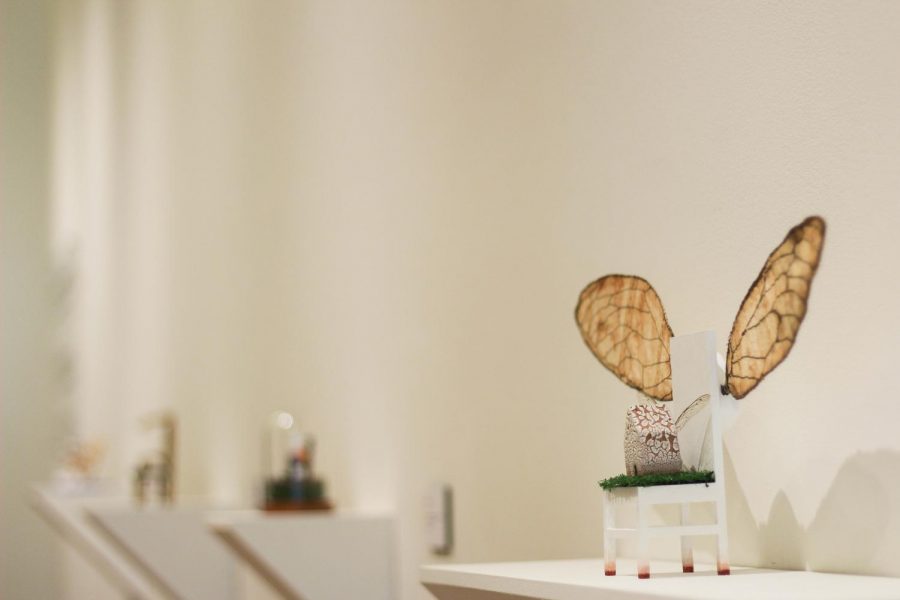 Jalon Dowell
"The whole concept is miniature chairs and it's amazing to see how many variations artists take that idea and the different results that come out of it," Michelle Higgins said.
As a worker at the McCutchan Art Center/Pace Galleries, Higgins said she's seen many students coming in to look at the pieces for this year's spring visiting artist Sarah Martin and the thirteen chairs displayed alongside Martin's work.
The Chair, writ small exhibit is open until Feb. 19 following a woodworking demonstration and lecture presented by Sarah Martin.
Higgins said the miniature scale of the chairs captures the viewers' attention because the unique sizing makes the chairs nonfunctional.  "You are trying to figure out what the intention is behind the piece," the senior visual arts education major said.
Curator Rob Millard-Mendez said he's wanted to put on a mini chair show for several years.  The professor of art said since he teaches furniture and his group was sharing the gallery with Sarah Martin's furniture, it felt like the perfect time to display the idea.
Millard-Mendez said shows like this are usually planned a year in advance, but the thirteen artists had less than six weeks. "That sounds like a lot but if you're a faculty member who's really busy or a person who has a job it's not much," Millard-Mendez said.
Millard-Mendez said the faculty, alumni, other artists he knew and two of his most advanced students helped with the creation of the thirteen chairs.
Brain Simpson said as a student he was really happy to be asked to participate in the show. "This is a nice challenge. Working this small is really kind of new for me."
The senior studio art major said he's been working with wood since coming to the university, focusing mostly on figurative work and a bit of furniture.  "I figured I could find a hands-on way of tackling and modeling a 3D form if I could actually get my hands in there."
"The idea of taking something that's so common, like a chair, that we take for granted," Simpson said.  "And to showcase them, I really like that idea.  No one ever thinks about 'who made this chair' or 'who designed this chair' anywhere. But to take the idea and be like no this is a work of art, this is something you have in your house a lot and someone designed this. You get the ideas of taking a chair and deconstruction the idea of a chair and moving away from there."
Simpson's said his chair, titled "Hot Seat," is a piece based on meeting the family of your significant other.  Simpson went with the electric chair style because when "you attend a meeting like that, that's where you sit, always feeling judged."
"I might actually end up making this into a little bit of a large piece," Simpson said.  "With more chairs and maybe a small table and round it out and give it a little bit more of a context than just by itself."
More used to working in a larger fashion, Simpson said this chair was really fragile with the shorter grains and the wood was narrow with few connections leading to a few non-starters.
Simpson said shows like this are great for exposure.  He's previously been featured in galleries and believes the university and professors are always encouraging their students to apply for shows.
"I've been through a lot of art classes and a lot of the times it's within the first five minutes the instructor will say 'look there's this show there' this, there's this'," Simpson said.  "It kind of gets you in the rhythm of needing to do that, to get out there and put yourself out there and display your work for other people to see."
Overall Millard-Mendez said the exhibit went well.  "It feels like a successful curating job when people keep coming back and it's not just something you see once and forget about it."
"My thing that I like people to see in the show is that a lot of the work has a kind of pretty deep concept stuff.  That's something I'm really into and that's to craft with an idea, with a concept behind it," Millard-Mendez said.  "There's something beyond, a layer beyond that for you to be like 'oh this person has some really deep thoughts about their works and they're making a statement about something."