Unity in art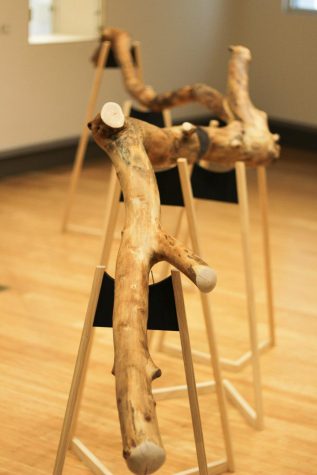 Jalon Dowell
Sarah Martin discovered her interest in art while selling art to college students in high school.
Students came to purchase art supplies and the idea of the projects drew her attention. Martin eventually started woodworking as an undergraduate and after her first project, she knew art was what she wanted to do.
"I got a big old block of wood and it was just so obvious all the things I needed to do with it," the assistant professor of art said. "Now, twenty years later, I like working with it still because it's a compromise in a lot of ways. Wood never stops moving; It came from a living thing, it still acts like a living thing, and you have to really put your ego aside in a lot of ways to make something successful with it. It's going to do what it wants to do."
The Murray State University professor's show If/Then will be previewed alongside another exhibit curated by Rob Millard-Mendez called the Chair, writ small until Feb.19, weekdays from 10 a.m.-4 p.m. and Sunday from 1-5 p.m. The exhibit features tiny chairs made by students, faculty, professionals, and alumni woodworking artist. Each artist was tasked to redefine a chair in their own lighting.
"A chair is such a common object that we don't even look at it, we just sit on it," Kathryn Waters said. "I think these shows are really two different shows but they are both somewhat wood-based and they are really nice together."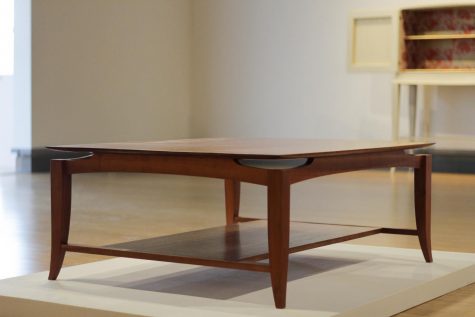 "I think what students see when they come to these shows is how creative humans are," the professor of art said. "I think every artist wants people to be able to relate or take away something for themselves. Everybody brings something different to a work of art because we all have different experiences. I think there are universal themes we can all relate to in art."
On closing night, Martin will host a workshop and lecture at 6:30 in Kleymeyer Hall. Martin said the shop will focus on showing students how to make her blackbirds followed by her lecture teaching students about her last twenty years in the art world and how she reached her full potential.
"I think it's valuable when you are talking to a university class to textualize how you got to where you are," Martin said. "It's not like a business degree or anything else where it's very clearly laid out in front of you and you go from one point to another."
Martin titled her show If/Then as a reference to the interpretation of the given.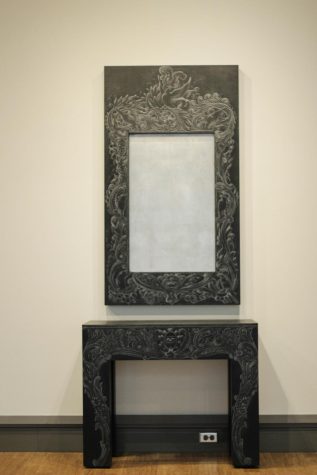 "If something is taken a particular way then you reach this particular conclusion. It relates to the way in which we make meaning. If you think about cultures around the world we experience the national phenomenon in an effort to understand the world around us and our place in it," Martin said. "We assign meaning to things that don't necessarily have that meaning. We look for patterns in the random and we chose to interpret the way that fits our own worldview. The title If/Then comes back to that by being a reference to the things that we are miss interpreting."
Martin's work is divided into two sections with gallery one featuring Martin's older furniture pieces. Gallery two and three are more sculptural and Martin's the current focus. Martin said these pieces are bigger than her furniture making it easier to avoid the struggle of trying to control the small details.
"I was able to get out of my own way enough to make something that I'm proud of," Martin said. "I no longer did I need to justify the existence of an object by making it functional; that I could make something that was just entirely about its own beautify and about the idea without having to frame it for the excuse of visibility."
Martin said she is very excited to join USI students for her shows closing lecture and hopes they will learn from her experiences.
"You don't have to limit yourself to any one thing. My practice goes from straight up furniture that has function and looks nice in peoples' houses to large-scale sculptures that have no function whatsoever," Martin said. "There's nothing to say that an art career has to be strictly prescribed. It's very fluid depending on what you want it to be if you want it to be that way."
Leave a Comment