Digging Out: Winter Weather forces campus to close Friday, Saturday, sets records
Noah Alatza, Community Engagement Manager
January 16, 2018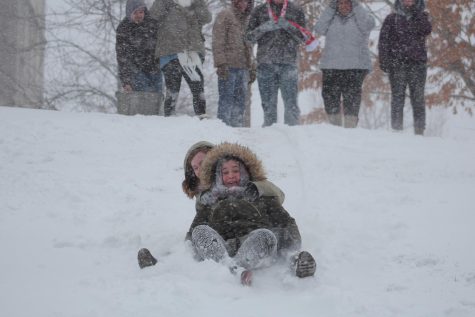 The university was met with Winter Storm Warnings for the first time in two years, forcing the campus to close operations entirely Friday, Jan. 12 and Saturday, Jan. 13.The last record snowfall to hit campus was set in 2016, when the tri-state received more than 10 inches in some spots.
According to the National Weather Service in Paducah, Kentucky, at least six inches fell in some portions of western Vanderburgh County, with average totals from both Friday and Monday's storm at or above five inches in a widespread area.
Director of Housing and Residence Life Amy Price said that despite Friday's overnight onslaught of freezing rain, ice and snow, the university's winter cleaning task force was well equipped and prepared.
"We did well with what we had," she said. "Facilities staff works really hard but there are 43 apartments that need steps cleared and sidewalks cleared and it's hard to get that done."
Price said the decision to close the university is typically determined around 5:30 or 5:45 a.m., with the final decision left up to provost Ronald Rochon, and director of public safety Steve Bequette.
She said members from the housing's 'Snow Crew' also help clear sidewalks, bus stops, and other locations. The position is paid and volunteers consist of Resident Assistants and staff members. The university also enlists a contractor, on top of other university paid employees.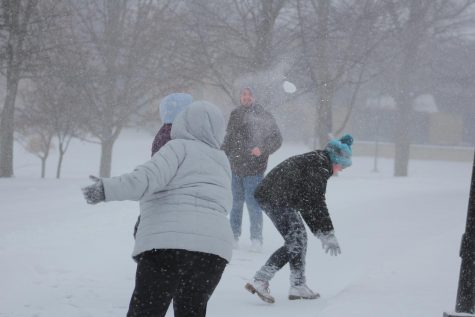 Despite Price's worry that the ice accumulation would be reminiscent of Evansville's worst ice storm in 2009, she said the administration's broad communication, and preparedness helped this time.  
"We lost power in 2009, much of Evansville lost power, it made me nervous when this started as an ice storm," she said. "The university really doesn't want to close, you have to make certain things up, but I think we did a really good job at communicating. The university was very collaborate in our process and everyone communicates frequently among me, the Public Safety (director), food services, facilities, and news and information services."
Price said food services are always a top priority. Sodexo makes the final call on all C-store deliveries, but housing remains in constant contact.
The decision to close some portions Mahrenholz Drive is left up to Public Safety. Price said they make those decisions, "pretty conservatively."