Let it grow
TEDx Evansville showcases at USI for first time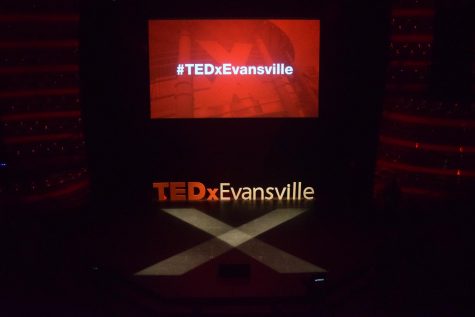 Diego Sanchez drove nearly 75 miles from Washington, Indiana to experience TEDx Evansville.
He could have watched it live online, but he paid $50 learn from the experience in person.
"I watch all of their YouTube videos and was excited they were coming to Evansville," Sanchez said. "I am here to absorb as much information as possible."
This is the third year for the local TEDx event, which is run entirely by volunteers from the Evansville area. The event drew a large enough crowd to require an overflow room which was packed with people who couldn't get into the Performance Center.
Executive TEDx team member & spokeswoman Heather McNabb said the university's campus was chosen because of the capacity it provides as an operational facility.
"We were able to find a beautiful venue here at USI," she said. "It seats almost 300 people and tripled our size. The venue is perfect and wonderfully made for this event."
McNabb said bringing Ted talks to the area started years ago and today the full potential is being felt on the local level.
"This year our theme is grow, the first two years you had to have under 100 people in the audience," she said. "So this was our first we year we could literally grow our audience."
Junior Marketing major Austin Karcher said he was in attendance after being an avid fan and finding an opening to hear TED speakers in person.
"I am just kind of looking to learn more about this, and I thought it would be cool," he said. "I watch a bunch of their stuff all the time and saw they would be here locally so I jumped at the opportunity."
McNabb said the event attracts global audiences everywhere, live-streaming the event in over 15 countries.
"TED events and TEDx are about ideas worth spreading," McNabb said. "We find our best local and regional talent with ideas worth sharing and spreading."