Student, alumni attempt to transform hammock industry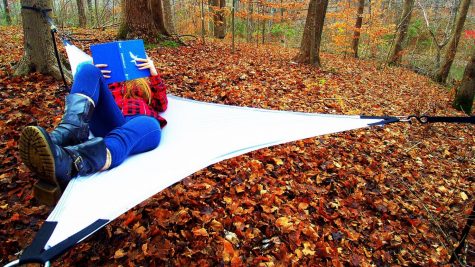 Lexi Taylor and Justin Locher just wanted a hammock that would allow them to see the outdoors.
So they created one.
Taylor, a university alumnus, and Locher, a junior mechanical engineering major, founded Troika Outdoors, a business specializing in three-point hammocks.
Troika is Russian for a 'vehicle pulled by a team of three horses abreast' which sparked the name recognition. Taylor said that the name flowed so well, they eventually went with it.
"We were online trying to find words that meant three, and we found Troika," Locher said, "Demand is continuing to increase, we sell everywhere in the United States."
The first prototypes for the three-pronged hammocks were created in 2016, and the company officially became a limited liability company (LLC) in April 2017.
He said the prototype idea came to light after finding just how uncomfortable a traditional hammock was, Taylor then turned that idea into a business.
"The idea started with making gimmicks and other gear," Locher said. "Lexi came up with the business aspect. The reason why I started making the hammocks was that I did not like how the two-point (hammocks) would fold in, I wanted one to where you could lay out flat, so you could just see everything."
The company is currently wholesaling the product and has shelf space at River City Mercantile & Coffee Co. on Main St. in Evansville.
He said the company is "definitely going to be in the jobs market soon."
Taylor graduated with a bachelor's in business administration, a concentration in entrepreneurship, as well as a certification in innovation management.
"We are really avid outdoors lovers," Taylor said. "We are always hiking and finding the best trails, we found that the basic two-point hammocks were crammed so we wanted to make something ourselves."
Troika's website outlines the company's plans as "creating outdoor gear for passionate adventurers, the devoted explorers, and the avid outdoorsmen out there like us."
"We also use Amazon as a platform," Taylor said. "They actually reached out to us first, which was neat."
Taylor said she eventually wants to hire employees as the company grows.
"We would love to have employees eventually," Taylor said. "We recently have received large orders from companies, and we want to make sure we have enough money to support employees before we start to add anyone."
Troika plans to increase production eventually especially after numerous large orders have been placed in recent weeks.