Speaker addresses consequences of social media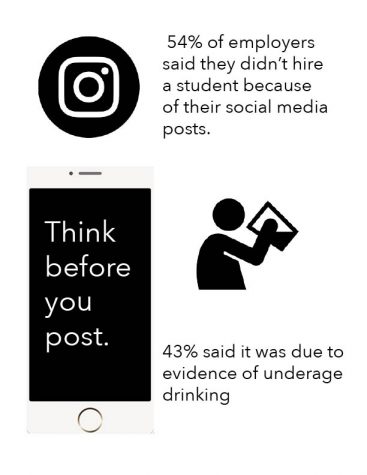 Infographic by Sarah Rogers
C.L. Lindsay said when he started giving lectures about social media awareness and alcohol, students were still using MySpace.
Lindsay is the executive director of Co-Star, Coalition for Student and Academic Rights, an organization that helps students and professors with their legal problems by helping them understand the law and their rights.
"We are facing the same problems we always have with students," Lindsay said. "It's just faster now."
Lindsay addressed the sea of faces in Carter Hall, urging them to be mindful of what they post on the internet, especially when it comes to underage drinking.
Lindsay covered issues such as sexting, public indecency, underage drinking, revenge porn, bystander intervention and social media etiquette. The purpose was to make students aware of the consequences of their actions, as well as educating students on the law and their rights.
Lindsay showed the audience statistic after statistic of reasons employers refused to hire a recent graduate. One of the number one reasons were content students had posted on social media, particularly content that showed evidence of underage drinking.   
"Students post a photo on the internet of them drinking and they are flabbergasted when they get caught," Lindsay said. "Once you post something you have no control over what happens to it or who sees it. It's basically like printing out an eight by ten and taping it up all around campus."
Lindsay showcased his collection of students who posted illegal activity, or explicit behavior in photos, showing students how easy it is to find and share information on their accounts.
90 percent of every Greek life chapter was required to attend the event. Failure to meet the requirement would result in social probation, requiring all members of the chapter to go through a conduct process.  
Jacob Dicus, program coordinator for fraternity and sorority life, said risk management is emphasized within Greek life to show the university the chapters take the policies seriously.
"Greek life is already under a microscope," Dicus said. "We have to be so careful we show the university and the community that we care about these issues."
Dicus is already planning future risk management events to focus on more diverse issues and to make sure students aren't listening to the same spiel year after year.
Sabrina Bays, a sophomore undecided major, attended the event with her sisters in Alpha Sigma Alpha.
This was the second time Bays has attended the risk management presentation by Lindsay, but this year it was different. Instead of focusing simply on partying and being smart when it comes to drinking, Lindsay spoke directly on social media for the first time.
"People now are so loose on what they post," Bays said. "You don't think about getting caught because you think only your friends see what you post. I was also shocked to find out that anonymous sites aren't actually anonymous and police can figure out who posts what."
Bays decided after watching the presentation to be more careful about who she lets follow her on social media. Scrolling through her friends, Bays deleted people she hadn't talked to in years or people she accepted simply because of mutual friends.
"(Lindsay) does a great job of entertaining and informing us at the same time," Bays said. "I appreciated how he leveled the playing field and didn't talk down to us. Most of the time speeches about these topics make students feel like they're being preached at, but he didn't do that. He made us feel like he understood where we were coming from, and I think that is how you're going to reach college students."
Leave a Comment