Graduate releases innovative, obscene card game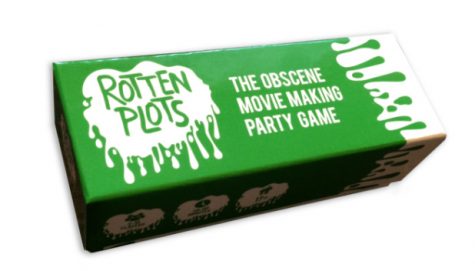 Graphic courtesy of Sam Kuban
If you are looking for something offensive and fun to play on Friday night, a USI graduate has a solution.
Sam Kuban is the owner of Evansville entertainment company Dead Ends Entertainment. A 2013 graduate, Kuban graduated from the university with a degree in Interactive Media Design.
Dead Ends Entertainment's newly-released game, Rotten Plots, is an obscene, movie making party game where players try to create ridiculous movie plots based on the cards they are given.
"We played Cards Against Humanity when we were in high school and college, but we wanted more," Kuban said. "We wanted to take it to the next level."
Kuban raised over $10,000 on IndieGoGo to fund the game with 130 backers. He said the game is so vulgar, they couldn't get a publisher for the game, which is one of the reasons he started Dead Ends Entertainment.
The game costs $29.99 and is available on the Dead Ends Entertainment website. Kuban said he is also selling the game at trade shows.
The game requires players to select a plot card as a protagonist, trait/object, first action, antagonist or final action. The "executive producer" then chooses a genre card for each player to act out their plot. The plot that the executive producer deems the best will receive an award card for that round. The first person to get five award cards wins the game.
It takes between 30 and 60 minutes to complete the game. It is for ages 17 and older and 3-10 players can play at a time.
"The creativity is already there," he said. "This is not a fill-in-the-blank type of game; you have to make it funny yourself."
Kuban began working on the game in late 2014 and said it was a very long process. He said his company worked on about six prototypes before deciding on the final product.
"We didn't know a lot about card games when we started about 3 years ago," he said. "Its different than any other game out there. Its cheap, doesn't take much of your time and I'm sure you can find a card or two to laugh at."