Evansville Health Center scheduled for May opening
As anticipation for the Evansville Health, Science, Education and Research center grows, so do the opportunities.
"There are not a lot of places that have done this before," Dean of the College of Nursing and Health Professions Ann White said. "Three universities coming together, working together, with the purpose of providing health, that's relatively new."
She said contractors should be completed with the Evansville Health, Science, Education, and Research center as early as this March. A final completion date is expected sometime in May.
The $61 million downtown campus is part of a near $250 million revitalization project ongoing in the heart of Evansville. The new facility will comprise over 140,000 square feet, giving USI a chance to clear up much-needed space on the third floor of the Health Professions building.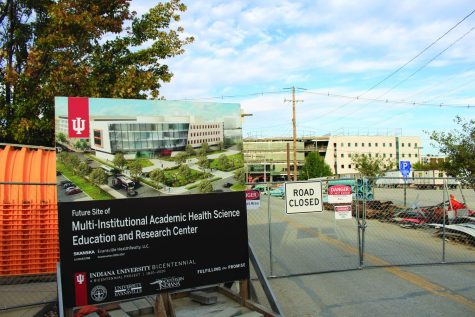 "The college of health professions will inherit most of the space on top floor of our current building," White said. " There is a section for the Pott College also because they have some space needs."
Indiana University owns 60 percent of the building, the University of Evansville and USI both split the remaining 40 percent. Each school will be branded as such and separated into their individual entities.
White said she anticipates classes to start by the Fall of 2018 and plans on accommodating students who must travel the seven-mile stretch from campus to the new facility.
"The Occupational Therapy program will move to the downtown campus," she said. "It's not like there is going to be absolute separation, it's going to be just figuring out how this is all going to work, we are sensitive to the fact of students driving back and forth."
A total of 500 graduate students are currently enrolled in the university's health professions and nursing programs.
"We are always looking at the potential for growth," White said. "I always want to make sure we have the quality for that growth. Our programs are recognized on a national level."
White said there are many factors in how the process is laid out and how planning strategically to meet the needs of the community and region are developed over time.
As some of the health programs look to shift out of their current building, officials at the university have been discussing with other collegiate counterparts to continue planning.
"We have been having meetings for over two years," White said. "We have different groups coming together and from that perspective, we will have some more recognition."
Junior Nursing Major Rachel Upton doubted the construction timetable but said she looks forward to the new facility.
"I honestly did not think they were going to finish it," Upton said. "I thought this was only going to be for Indiana University, but I am happy to see that it is serving Evansville also."
For White, she said her main goal is to educate every member of the university on the realistics of the plan.
"I do not want anyone, faculty, staff or students, to believe that because they are in the downtown building, that they are no longer part of USI," White said. "Sometimes when you are physically separated that can be a real challenge, so we are already working on how we maintain communication, and how the individuals down there won't feel lost or siloed off."
The prospects of the new building cater to a variety of needs that White said will continue to shape not just Evansville, but the region as a whole.

"I think it is going to give us a lot of opportunities, and potential," White said. "With expanding upstairs and seeing what will be strategically appropriate and even new programs that we feel now that we have the physical space to provide to this region."
Leave a Comment