Day off filled with fun, friends
Running quickly in the September grass, Sophie Effron caught the black frisbee. Shifting her feet, Effron's suntanned skin glowed in the midday sun as she searched for a person to pass to.
The business administration junior laughed as her friends bumped and pushed each other, trying to block Effron's line of view.
The group of friends, just moments before swimming in the lake, quickly dried their skin in the 80-degree weather.  
A thud of a bag on a Cornhole board, the splash of a perfect landing in the water, and cheers of encouragement for a fearful trapeze swinger were the sounds that played as the background music for the Labor Day celebrations.
Effron and her friends were just a few of the hundreds of students who attended Labor Day at the Lake, a free event hosted by the Recreation, Fitness and Wellness Center on Kramer's Lake Monday afternoon.  
This year marks the 17th Labor Day students have invaded the sandy waters.
Kramer's Lake is located on the grounds of New Beginnings Lakeside Church, only three miles from campus. The lake provides students with slides, paddle boats, beach volleyball and a trapeze. The church staff partners with the RFWC to provide students with a free meal.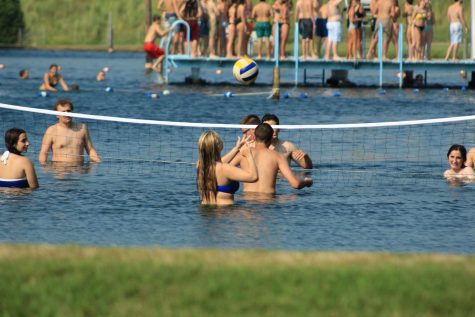 "This is my first time at the event," Effron said. "Last year I didn't hear about it. I wasn't involved enough on campus."
Effron said this year she has gotten more involved.
"I went to Holiday World with the International Club," Effron said. "It was my first ever university-hosted event. Getting involved has made such a difference. I know what is going on around campus for the first time."  
Effron said getting involved has created unexpected friendships.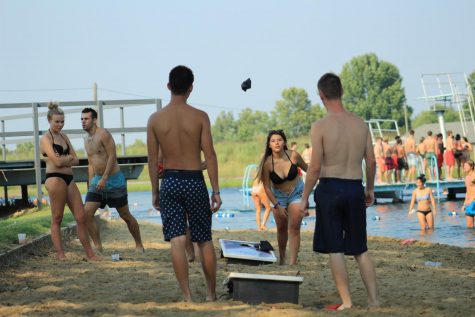 "I joined the International Club and really just clicked with the people there," Effron said. "I appreciate their cultural differences and listening to the interesting stories about their culture and customs. Most of my friends in International Club love to play soccer. I go and play with them, or I just watch from the sidelines."
Effron said Labor Day at the Lake is just one of the perks of becoming more plugged into the social life of campus.
"I decided to come here with my friends and just play some ultimate (frisbee)," Effron said. "I used to play with my homeschool group but it has been a while since I have played. It feels nice to throw around with friends again."
Gabi Baker said she did not expect the turnout. The public relations and advertising junior said she expected the event to be popular, but not as popular as it was.
"There are so many people here," Baker said. "Sometimes I forget these many people go to USI."
Baker said she enjoyed all of the activities.
"I have gone on a few of the waterslides, and water games," Baker said. "I won't go on the trapeze; it looks too scary."
Mark Gregory, a senior RFWC assistant, said this is his first time helping with Labor Day at the Lake.
"We started planning for this event about a month ago," Gregory said. "It doesn't take much though. A little planning, a little time, and students. I have been making food all day: rolling out meat and passing out ice-cream."
Gregory said the event is fully funded by students' activity fees.
"We know students don't have money," Gregory said. "This is just a nice event for students to come and enjoy Labor Day celebrations for free. They get free food, free fun and free t-shirts. It's a great opportunity and I am glad they take advantage of it."  

Leave a Comment