Tapingo delivery to be unveiled in 2018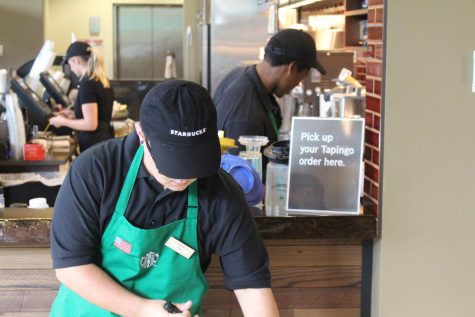 Starting in 2018, instead of going to Steak 'N Shake to grab a sandwich, Steak 'N Shake can come to you.
Tapingo, an app that allows customers to order their food from seven locations on campus without waiting in line, is expected to bring their delivery system to the university by fall of 2018.
"We want to make sure we work out all the kinks and we have a system set up here for Tapingo in one complete year before we start doing delivery," Lamar Patterson, director of dining services, said.
Patterson said there will be a delivery fee once the system is in place but he does not know how much it will be yet.
He said Tapingo will deliver on campus and a 3-5 mile radius outside of campus.
"We did test the delivery last semester in the spring with our pizzas, where we delivered and it worked very well," Patterson said. "It was a lot easier to have those orders in and save time for somebody manning the phone. Orders came through and we sent it out so it worked very well."
Despite Tapingo expanding and the possibility of more orders coming through, Patterson said he is not worried about orders getting backed up.
"Tapingo only lets so many orders go through, so it's not like we can have 50 orders coming in at once, so that helps that part of it," he said.
There will be a 59 cent service fee attached to the current ordering system, but Patterson said it will not be charged until Sept. 3. Sodexo only takes a small portion of the revenue made from the fee, and Patterson said they cannot make changes to the fee.
Sodexo cannot make changes to the app itself, but only to the menu or the hours opened. They will also not be responsible for hiring the delivery drivers.  Tapingo will be hiring the drivers who will be using their own cars. Patterson said the only part of the process Sodexo will provide is the food.
"They want to do it probably sooner than we are comfortable with letting them do it because it won't be any of our employees," Assistant Director of Dining Services Rebecca Diamond said. "That relinquishes a lot of control for us. We lose a lot of quality control and just getting the timing down."
Diamond said the most difficult part of the Tapingo process is the Chick-Fil-A ordering system.
"We find that Chick-Fil-A is really quick," she said. "It's actually even quicker without the app. The app was causing so many issues that it was even holding up orders for people who were standing in line."
Chick-Fil-A on Tapingo is currently shut down, and Diamond said it will not go back up until the ordering system is fixed.
Tapingo is not the only vendor Sodexo has reached out to for a pickup/delivery system.
"We started to implement them several years ago," Diamond said. "They were not an approved vendor for Sodexo at the time."
Diamond said the initial problem was figuring out the IT needs for Tapingo. She said this became a detailed process considering the university was undergoing a change to the security process at the time.
Six years ago, Diamond said Sodexo had looked into an app similar to Tapingo called EPOS.
"We never even got that off the ground because we rolled into so many issues on their end," she said.
Diamond said another problem they have been experiencing is people not coming to pick up their orders.
"Sometimes there are six or eight orders that are sitting there ready and nobody is picking them up, and we are not sure why," she said. "We need people to understand that when you place an order, know it's going to be ready and please come and get it."
Leave a Comment