Professors showcase creativity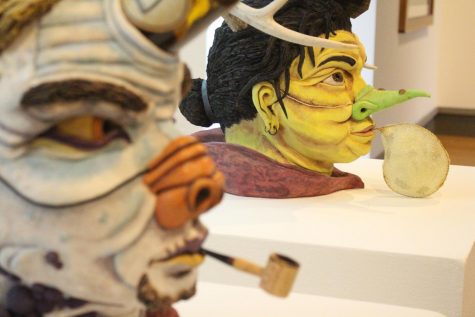 Alisa Holen said one-third of her job is being an active artist.
"One-third of our job as professors is teaching, one-third is service and one-third is being active in our field of study," the associate professor of ceramics said.
Holen said students don't always know what their instructors are capable of.
"Just like an English professor does not necessarily teach on a book they personally wrote, art professors don't generally teach their own artwork."
The 100 Miles: Art by Regional Collegiate Art Faculties art show gave Holen that opportunity.
The exhibit features the artwork of professors and instructors from Indiana, Illinois, and Kentucky all within a 100-mile radius of campus. The exhibit will be shown in the McCutchan Art Center/Pace Gallery until Sept. 10.
Katie Waters, a professor of art and the gallery director, said 42 different artists are featured in the exhibit.
"Every single art and graphic design instructor from USI submitted at least one piece of artwork," Waters said. "I am very pleased with the turnout of this exhibit."
Waters said the art and design department has wanted to do something like this for quite a while.
"We have always known there is a lot of talent around this area," Waters said. "A number of art instructors have been recognized on the national and international level. We wanted to showcase that talent for students and members of the community."
Waters said instructors from Illinois, Indiana, and Kentucky were asked to participate in the exhibit.
"The response we received was fantastic," Waters said. "Every professor and instructor seemed excited about the event. I think they were simply glad to be asked to show off their own work."
Waters said students don't always get to see what their professors make on their own time.
"I think students can forget those who teach are also artists," Waters said. "Exhibits like this show students their professors know what they are talking about and display their creativity."
Waters said when people look at the exhibit they will be impressed.
"When people look at a great piece of art, they don't expect the artist to be an instructor at a small-town university," Waters said. "They will be surprised to find most of these fantastic pieces of art have been submitted by artists just like that."
Holen said she submitted two ceramic sculptures titled "The Revelator" and "The Moonshiner" as well as one functional ceramic piece.
"'The Moonshiner' and 'The Revelator' were inspired by two printmaking pieces professor Brett Anderson did of him and his wife," Holen said. "Anderson has such a creative mind, and his prints inspired me to make them into something three-dimensional."
Holen said the act of taking a print and making it into a sculpture was like making a "tongue in cheek" statement to the high arts.
"Print-making and ceramics used to get a bad rap from people not involved in the art community," Holen said. "Both were seen as 'Functional' arts, or as Craft. Sculpture has always been perceived as a high art, so a Printmaker and a Potter collaborating to make sculptural works is a fun statement."
Holen said the exhibit has been a wonderful opportunity to communicate with other artists about their work.
"It's nice to see what is going on with other professors in the area," Holen said. "To be able to network with them and collaborate is an opportunity we don't usually get."
Leave a Comment