Solar eclipse draws thousands to campus
Heads craned upwards as tinfoil-tinted solar eclipse glasses pressed against the faces of thousands of USI students, 500 elementary school children, and members of the Evansville community.
Boisterous clapping and cheering ensued for the short span of time when the moon passed over the sun. Nick Stalker quickly passed his welding mask around his group of friends, giving each a chance to view the rare event.
The advanced management sophomore said he didn't even bother waiting in line for the glasses because he knew he could use his welding mask.
"I have been welding since I was 14," Stalker said. "When you weld, you use the mask to protect yourself from the UV rays. I knew the mask would be able to protect me from the rays of the eclipse."
Stalker said the event would not be enjoyable without eclipse glasses.
"I don't think someone would get much out of the experience without something to safely view the eclipse with," Stalker said. "But if you look around everyone is sharing their glasses; it's an enjoyable experience for everyone."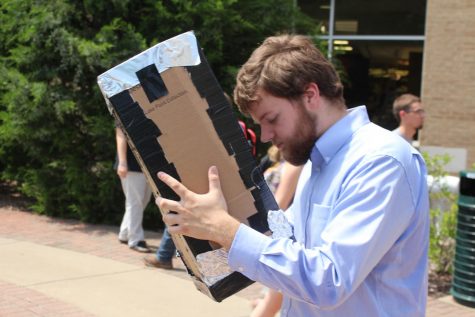 Campus hosted a viewing party today for the eclipse, open to the community and students. Thousands filled the Quad as eclipse-viewing glasses were passed out. A total solar eclipse has not been visible in the United States since 1910.
Freshman math teaching major Victoria Ruter sat crossed-legged in the grass watching the eclipse with her two hometown friends.
"Everyone has told me how this experience is a once in a lifetime opportunity," Ruter said taking another peek at the eclipse as the sky quickly darkened. "I knew I had to see it. It is something I will be talking about for a while."
Ruter said seeing so many people on the Quad was overwhelming.
"We come from a small town," Ruter said motioning toward her friends whose eyes were glued to their glasses. "We aren't used to crowds like this; I didn't even know this many people went to USI. There has to be thousands of people here."
English teaching major Savannah Tilfold described the event like a football game.
"It felt like we were sitting in a football stadium and all the lights were pointed on us," Tilfold said. "It felt hazy, almost like it wasn't real."
Tilfold said without the glasses the sky simply looked cloudy.
"It looked like it would if it was about to storm," Tilfold said. "But with the glasses, it was so cool. The sun was just like red circle and the moon looked like a black disc. For just a second you could see the moon pass over the sun and cover it."
Tilfold said the best part of the event was seeing the children.
"The kiddos were the best part," Tilfold said. "They are all so cute. I just think it's amazing that they get to see something this rare while they are so young."
Leave a Comment