'Removing the blinders'
Internship opens student's eyes to new experiences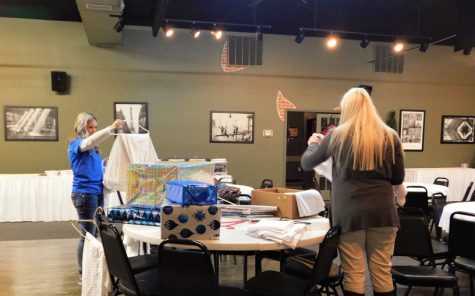 Jordan Stewart tried to squeeze through a narrow doorway holding a pile of decorations, but the long blue present caught on one side.
Her sister, Jessica Stephens, gave her a nudge that caused them both to laugh as she was freed into the large dining hall filled with round tables draped in white cloth.
"I've also done two big events for our client's appreciation events," Jordan Stewart, the psychology student said. "Tomorrow we actually have our biggest one. We're having a magician, he was actually on 'America's Got Talent' so that was really fun talking to him on the phone."
Stewart organized the client appreciation day as part of the responsibilities for her internship at Michael Stewart & Associates, a financial services business located in Harrisburg, Illinois.
Originally, she wanted to pursue a career in school psychology but jumped at the opportunity to intern with her dad, Michael Stewart. He started an independent financial business in 2014.
Margaret Felton, an instructor, said at her discretion the internship was accepted into the psychology internship course.
Stewart said the internship classified as an industrial and organizational psychologist.
She said the business received research from the Massachusetts Institute of Technology age lab that explored ways to improve older people's lives in the industrial area. She applied this to decisions during the internship which mainly focused on advertising and marketing.
Stewart said the biggest project she completed there is the re-design of their official website that originally was dull and difficult to navigate. After the recruitment of a photographer Stewart gave the website life. She gave the page a warmer connection with consumers and added personal biographies she wrote for the entire staff.
She said this is only one of several projects she had undertaken. She created social media for the business such as Facebook and Twitter. In the advertisement aspect, she designed billboards for the business.
"It's like a little bit of everything at this internship. I'm just getting my hands dirty on everything," said Stewart.
Stewart said she plans to eventually pursue her master's degree, but currently wants to explore different career options in the psychology field.
"This internship opened my eyes. I feel like I had my blinders on because I was so wholeheartedly set on school psychology and doing this, it made me realize there's a lot more out there that I enjoy doing," Stewart said.