Empty Bowls raises money, awareness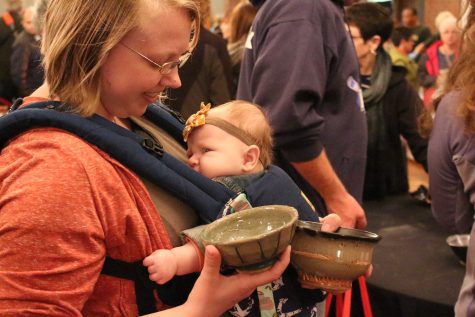 Bowls clinked together as volunteers unloaded the last few boxes at Sauced before the restaurant's doors opened Saturday morning.
"One minute left till doors open," Al Holen shouted.
The room erupted in cheers and clapping as two volunteers opened the two big doors into the restaurant. Within five minutes hundreds of people flooded in picking up empty bowls and making their way to the variety of soups.
Several university and Ivy Tech students volunteered with Holen, assistant professor of ceramics, to put together Empty Bowls Evansville, a national non-profit organization designed to help end hunger.
The organization donated 50 percent of its funds to ECHO Housing Corp., 30 percent to Aurora Inc., and 10 percent each to United Caring Services and the House of Bread and Peace.
"A lot of my students don't even know there's a hunger problem in Evansville until they take the course," Holen said. "And I ask them, 'Can you make a $10,000 donation to your favorite charity,' and they are like no and I'm like yes we can."
Holen said support for Empty Bowls has grown every year.
"We get more and more bowls every year, more and more people making the bowls every year, and at the heart of it we are raising money for these fabulous charities," Holen said. "Soalong with all these extra people, we are (raising) awareness with the charities, too."
This year Holen counted 1,281 bowls going into the sale, which she hopes will help them make more money than last year's amount of $13,000.
Erin Wildeman, one of Holen's ceramics students, wasn't sure how they were going to achieve that amount.
"It was our first day, and we were talking about the class, and I've heard of Empty Bowls… but when she said that amount I was like, 'Wow, how are we going to do this?' and she explained it all and I thought it was amazing…It's been cool to see the bowls come together and to do something for the community."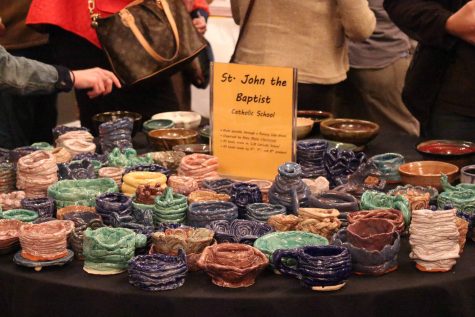 The senior public relations and advertising major said it was impressive to see the room filled with bowls.
"We've been working on bowls," Wildeman said. "And we've been seeing them go through and we hear the numbers, but actually seeing them all out and how infinitely different they are and amazing each one is, it's beyond what I imagined."
With already four bowls in her hands, Melinda Roberts went from table to table turning bowls upside down to try and find her name.
"I made seven bowls and I've only found one," she said, laughing.
Roberts, a professor of criminal justice, has made bowls every year since the event started.
"It's very difficult to find (my bowls)," Roberts said. "But I'm just really excited to see this many people. Regardless if I find my bowl, there are many gorgeous bowls to be had."
Although Roberts said she wouldn't consider herself an artist, knowing that someone might have bought her bowl is exciting.
"That's pretty amazing to think that someone liked it enough they wanted to take it home to enjoy it," she said.
Roberts said it used to take her 25 minutes to complete a bowl, but now she can throw one in about five minutes.
"I love the challenge of trying to do something completely outside of my comfort zone," she said, "But on the other side it goes to a really great cause and helps our local community."
Roberts said Empty Bowls is a wonderful partnership between the university and the community.
"I feel like (Holen)  has done an amazing job creating this event and bringing in all these community partners…" Roberts said. "Every year I've been coming to this the line gets longer and longer and I think that definitely says something about how special this event is to the community."