Fraternity's 'steady progress' recognized
When Daniel Nickens joined Sigma Pi in 2014, he said the fraternity was "on the cusp" of something greater.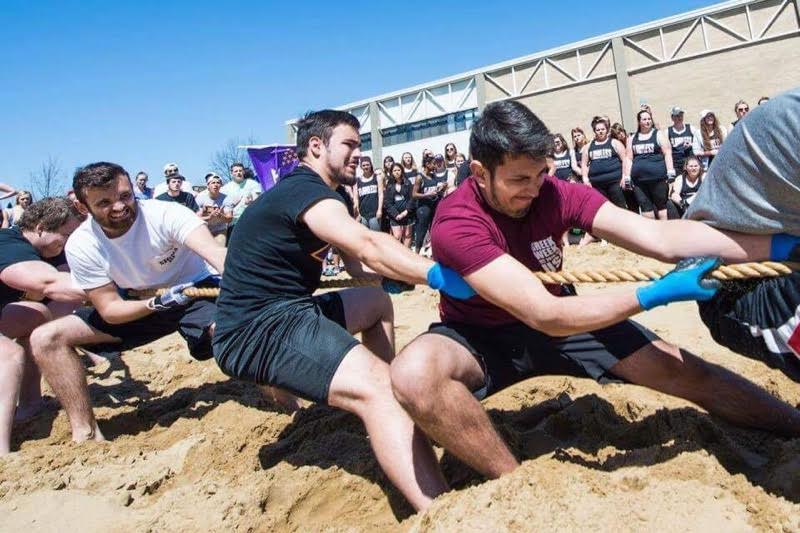 This summer, the USI chapter of Sigma Pi received the Grand Chapter Award at the fraternity's convocation ceremony in Las Vegas. This award is given to the 25 highest-ranking chapters nationwide.
Nickens, the fraternity's treasurer, attended the convocation and said the experience of accepting the award was validating.
"It gives you a sense of being involved in something greater than yourself," the senior electrical engineering major said. "Getting recognized by headquarters made us feel like all the hard work we've been doing for the past two years meant something."
USI's chapter, known as Theta-Psi, scored at the 93 percent level of efficiency based on evaluations from headquarters. This score gives the chapter a silver rating.
Two years prior, the chapter received a bronze, 87 percent efficiency rating.
Nickens said he's seen so much improvement within his time with the fraternity that he has high expectations for the group in the future.
"With the current trajectory, we will be running for the top fraternity award (next award cycle,)" he said. "It's possible. I don't think that's a far-fetched dream."
Both Nickens and chapter president Alexander Davis said one of the top goals for Sigma Pi is improving the fraternity's average GPA.
Davis said to be in a fraternity, the university requires students to have a 2.6 GPA. He said Sigma Pi's chapter average usually falls around that number, but he and other board members are pushing to improve.
"We're requiring members to do study hours," Nickens said. "There will be a lot more accountability because the hours will be logged through academic skills."
He said if recruitment of new members increases the fraternity size and the average GPA rises to above a 3.0, their chapter could definitely contend for the top award, or the Grand Sage's Cup.
"We've been making steady progress," he said. "These (improvements) usually take maybe 10 years, but we've made them in shorter. We see these challenges, and we execute."
Davis, a senior history major, said Sigma Pi's current state is about equivalent to that of fraternity Lambda Chi Alpha about a year ago. Lambda Chi Alpha received a top chapter award at their national gathering also this summer, and Davis said he wants to get to that point.
"Within three years, we went from being really unstructured to being structured," he said. "I feel like I rushed a different fraternity than the one I'm president of now."
Davis said he focuses on making members professionals and giving them active leadership positions.
"I like to empower my chairmen," he said. "You can have as many chairmen in (an organization) as you want, but if you sit there and do nothing, what's the point?"
He and Nickens both said because of Sigma Pi's leadership as well as its consistent growth, the fraternity offers unique opportunities for anyone seeking involvement.
"Dispel all of the prior notions of a fraternity," Nickens said. "Think of it as a bunch of people who have similar interests who pull money together to do cool things they aren't otherwise able to do."
Sigma Pi is currently planning a comedy improvisation fundraiser this fall called "Fraturday Night Live" slated for November, alongside other new projects still in development.
The fraternity is also involved with campus landscaping or building renovations every fall and a car show fundraiser every spring.
"If you're interested in being part of the excellence on campus, Sigma Pi's a great fit," Nickens said. "Sigma Pi has a lot of untapped potential that new members would be able to unlock with us."