'Enthusiastic' professor recognized by arts council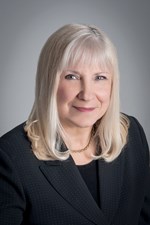 Brakston Farrar said art professor Joan deJong doesn't spoonfeed her students.
deJong, who taught Farrar in the fall of 2014, received the 2016 Educator Award from the Arts Council of Southwestern Indiana. She is one of eight winners receiving an award from the council and will be honored Thursday during a reception and awards presentation at Victory Theatre.
"In class, (deJong) needs you to push yourself," Farrar said. "Her teaching let me prove to myself that I can do this and stand up for myself."
As a senior art major with an emphasis in graphic design and illustration, Farrar took deJong's upper-level graphic design class. He said some students struggled with her teaching style, but Farrar flourished when set loose to explore design with few boundaries.
"I had rough patches as any student does, but I learned a lot," Farrar said. "I'm now striving to better understand myself as an artist."
He said the way deJong interacts with him both in and out of class has been comforting as he figures out what he wants to do after graduation.
"She's always happy and enthusiastic about promising artists," Farrar said. "I wish more people could know what she does and meet her."
Anne McKim, executive director of the Arts Council, said in selecting the recipient for the Educator Award, the committee looks for people who do more than teach the "fundamentals" of art fields.
"The Arts Council gives the award to someone who teaches students to value art in the community," McKim said. "Someone who serves as a role model and goes above and beyond."
McKim is not part of the committee, which consists of artists throughout the community as well as past recipients of the award.
Through the several years McKim has been overseeing the Arts Council, she has witnessed deJong's engagement with the community and passion for teaching others.
"deJong has been engaged with the Arts Council and design groups," McKim said. "She's such a fixture at USI and Ivy Tech, and her impact is really felt here."
She said deJong's work in education and the community ties in with the Arts Council's basic mission: to promote the arts and celebrate different aspects of art in the region.
"It's nice to have people in the community who are pulling in the same direction as we are at the Arts Council," McKim said. "It's affirming to think what we're doing here can assist her, and I certainly would consider (deJong) a partner to us."