SGA proposes doubled, mandatory fee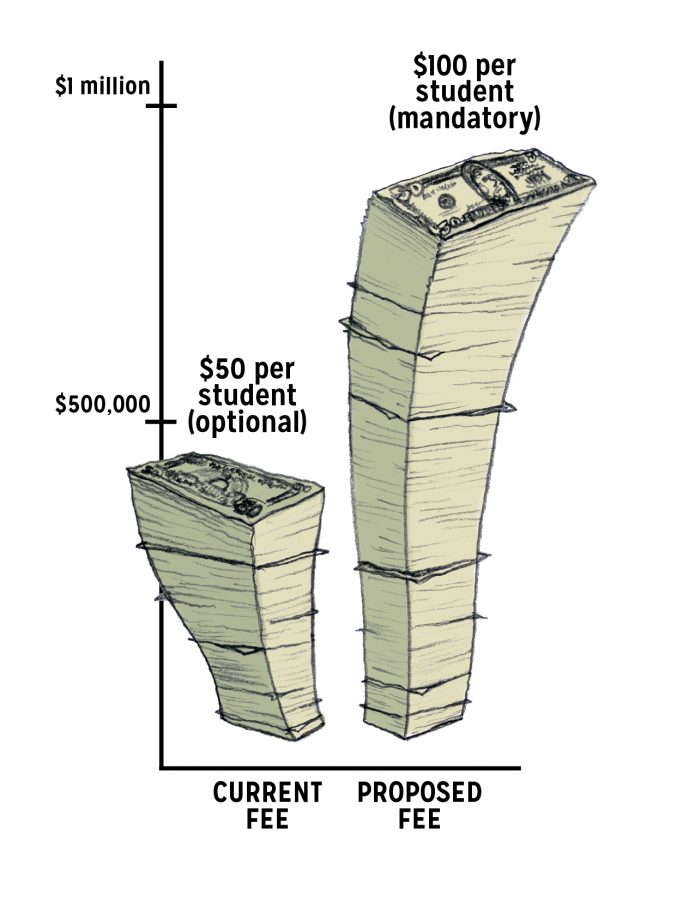 Taylor Dunlap doesn't know what the Student Government Association does.
However, both she and her fellow students are affected by a recent SGA resolution supporting an increase in student activity fees from $50 to $100 per student. Students can opt out of the $50 fee, but the resolution makes the $100 mandatory.
Based on USI's overall enrollment of 9,209 graduate and undergraduate students in the fall, the increase in student fees would result in more than $900,000 in funds to student organizations.
Dunlap said the only times she thinks of SGA is when they post announcements to class pages or during elections each year, and she would like to be more aware when SGA is making impactful decisions.
She said it's likely many students won't notice an increase in fees, but some students who are paying for college out of pocket might.
"(SGA members) are speaking for us, but maybe they should have polled the community more," the junior elementary education major said. "I would want to see where the (increased fees) are going."
SGA passed a resolution authored by Chief Financial Officer Aaron McCullough after being introduced to the general assembly March 31.
"To give an idea, currently with how much SpringFest costs, the money we would get from this increase would allow us to have SpringFest every other week, or half of SpringFest a week or double the SpringFest a month," McCullough said.
The resolution states the $50 per semester student activity fee "no longer adequately finances all the areas that are funded by this pool of money."
It also states that a mandatory student activity fee of $100 per semester would still be one of the lowest student activity fees in the state.
The resolution states that "while not every student will take advantage of programs provided by this fee," it should be mandatory and is "for the greater good of USI."
McCullough, who will continue as SGA's Chief Financial Officer for the 2016-17 school year, plans to present the passed resolution to the Board of Trustees this summer.
He said SGA hasn't provided a specific breakdown of where the money will go.
"Where the money goes is above me… I suggest (the money from the fees be) a blanket and make everything better," McCullough said.
He would also like to see more late night events, which could propel the university forward into becoming a 24/7 campus.
As of April 11, Vice President for Finance and Administration Steve Bridges had not seen SGA's resolution, but he previously spoke with McCullough about what increased student fees would entail.
"It would certainly double the money and it wouldn't be generating dollars just to generate dollars. It's to benefit those paying that fee," Bridges said. "It would help fund student organizations and increase services we provide to students, and involvement and excitement."
Bridges suggested to SGA they make a recommendation to his office to be presented to the Board of Trustees.
The BOT will make decisions concerning finances and fees in July, and Bridges said the issue will be highlighted, especially if it's a resolution the students endorse.
He said the student fee originated in the fall semester of 2001 at $15. It increased to $25 in 2004 and then to $50 in 2012.
Bridges said student activity fee funds go to a number of outlets such as the USI Theatre, the Multicultural Center, SpringFest, Activities Programming Board, SGA, the Recreation, Fitness and Wellness Center, The Shield and the athletics department.
Out of all the areas funded by student activity fees in 2014-15, Global Engagement programs received the most money at $200,000.
McCullough said he acknowledges the $100 amount is negotiable with administration, and Bridges expects to hear from him soon.
"I want to talk to him and discuss," Bridges said. "The resolution moved quickly since we talked."