Sanders rally promotes voter registration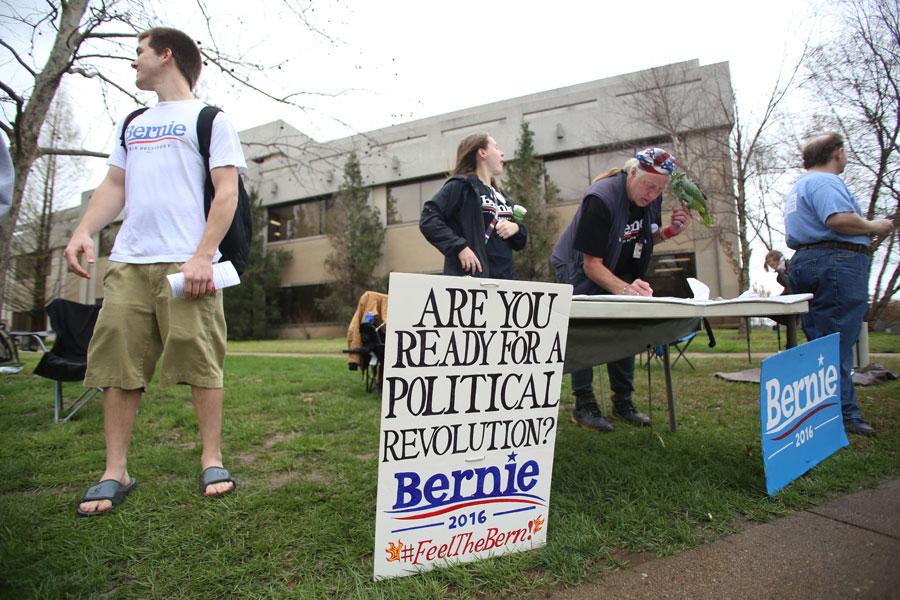 Rob Zaricki and other volunteers for the Southwestern Indiana for Bernie Sanders group held a rally March 31, in USI's Free Speech Zone.
Zaricki said the goal for the rally was to get more students to vote and bring awareness to the Vermont senator's political campaign.
The group also wanted to register students to vote, but was not allowed. Dean of Students Bryan Rush said this was because they were not a student organization and were clearly one-sided.
In order for an organization to register people to vote, it must be nonpartisan and student ran. If an organization receives an OK to register people, they are not allowed to hand out information about any political party or candidate.
"I think we as a campus want to be transparent," Rush said. "We want folks to have the opportunity to have competing ideas and want it to be done in a civil way, but we certainly never want to censor unless it is harmful to others."
There is currently a committee reviewing the Free Speech Zone policy. Rush said there is a good chance there will be a new policy in place next year.
The committee is looking at every aspect of the zone, from the location to the process of accepting off-campus groups visit, nothing is limited. The committee is currently in the early stages of analyzing the zone.
"We want to make sure that we don't have too narrow a policy as it relates to free speech on campus," Rush said. "We also want to make sure there are protections in place for the institutional mission and for the safety of our students."
Zaricki was drawn to Sanders because the senator is vocal about universal health care, minimum wage and free college tuition. He said he feels it is important these issues are addressed on the political forefront, and Sanders has been on that same path for 30 years.
"He's cut from a different cloth," Zaricki said.
Sanders' stance on returning veterans is also a strong point for Zaricki. He said currently, the U.S. does not take care of veterans when they come back and we should be ashamed.
He said Sanders is inspiring a whole generation of political activism, and called Sanders an "activist" president who needs the people fighting alongside him in his campaign.
Freshman Shawn Lewis, 36, said Sanders' case for education reform is a big part of his decision. The computer information systems major has a family of two children and worries about student loans.
He was excited when former Secretary Hillary Clinton announced her presidential campaign, but after analyzing her campaign, now says she is an "old white guy in a woman's body" and is just like every other candidate. He said he sided with Sanders because he speaks for everything he feels needs changed.
Senior psychology major Ryan Welp said his reason for backing Sanders is because he has addressed the same issues for 30 years.
"I actually trust him," Welp said.
He said the big thing about Clinton is her constantly changing stances and policies. Sanders has had the same stance on climate change since day one, and while Clinton is on the same side as Sanders, she is actually adopting his thoughts and viewpoints, Welp said.
He said he wants students to educate themselves on politics and where each candidate stands on each issue.
"He's not running against anybody," Welp said. "He's running for us."