Sheriff's office announces new bike patrol program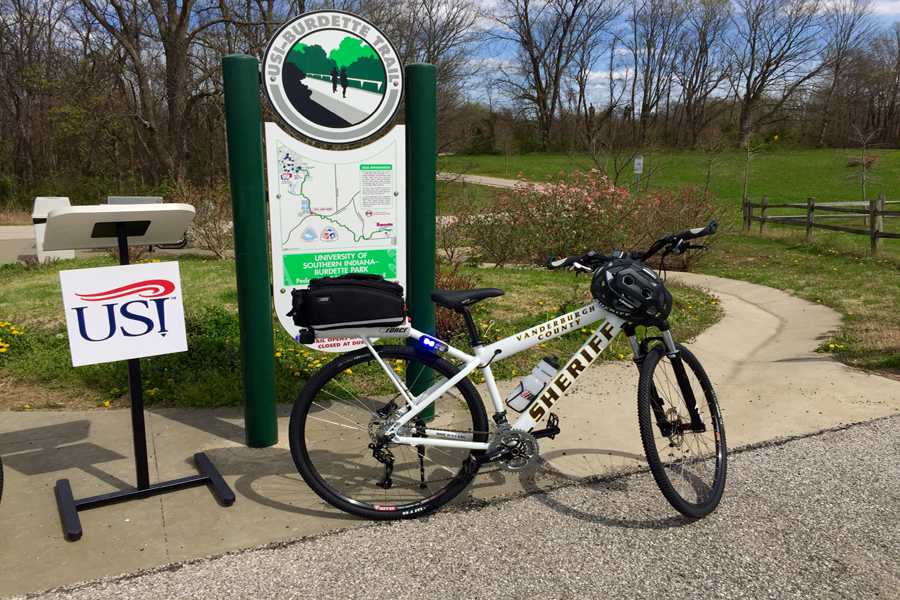 Students who utilize the USI-Burdette Park Trail may soon come across sheriff's deputies on bicycles.
The Vanderburgh County Sheriff's Office announced a new Non-Motorist Safety program Friday at the Broadway Recreational Complex. The goal of the program is to increase bicyclist and pedestrian safety throughout the county.
The Indiana Criminal Justice Institute approached law enforcement offices around the state last year and asked them to submit proposals that would increase bicyclist and pedestrian safety, Sheriff Dave Wedding said during a press conference.
"They've recognized over the years that we've had a number of people who were either injured or killed while walking and riding bicycles in the state, and conveniently we've had that happen in Vanderburgh County as well," Wedding said.
USI Public Safety Director Stephen Woodall wrote a letter of support for the sheriff's office's proposal.
The criminal justice institute agreed to fund three bikes and any overtime owed to deputies who use them.
"This is an overtime-funded event," Wedding said. "It won't be an everyday occurrence."
The bikes will be used to patrol areas throughout the county that are "not really conducive for a deputy sheriff to be out in a car trying to interact with the public," Wedding said, such as trailer parks, subdivisions and Angel Mounds.
"We plan on being out at trails like here at the University of Southern Indiana," he said. "We hope not only to interact with the public. We may be able to deter some crime."
Wedding said the office is not assigning the bikes to any particular areas.
"We'll just be selecting sites from time to time and putting the deputies out," Wedding said. "So they may be here one day. They may be at Burdette Park one day. They may be out on the far eastside one day. They're not going to be assigned a district to patrol."
The number of patrol officers assigned to USI's campus and the surrounding area will not change.