'Remember it's a clean slate': Lady Eagles end win streak with 32-point loss
USI women's basketball heads to the first round of the GLVC tournament following a loss to Bellarmine University.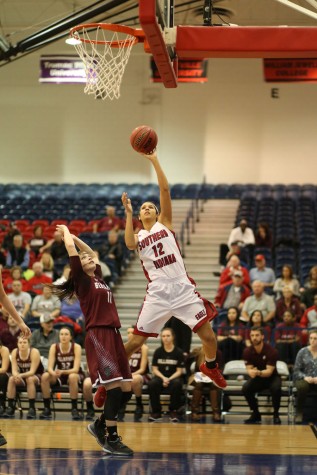 Randa Dallas said the women's basketball team made a lot of mistakes in its 89-57 loss to Bellarmine University.
The team, which was on a four-game win streak, shot 32.4 percent from field-goal range and 10 percent from the three-point line.
"We didn't make shots," the assistant coach said. "You play against teams that are nationally ranked. When you get an open shot, you've got to knock it down."
Two USI players ended the night in double figures. Kaydie Grooms scored 13, followed by Morgan Dahlstrom who scored 12.
Dahlstrom, a sophomore forward, said the team knows it can make the shots it missed.
 "We missed bunnies. We were two feet away from the basket," she said. "For awhile, it felt like we couldn't buy a bucket."
She said besides the offensive lows, the team lost its identity.
"Our last four games we've won," she said. "We didn't look like that team tonight."
Dahlstrom said the defense was something the team talked about all week leading up to the game.
"We gave up 87 points in our house," she said. "That can't get you a win with anyone."
 Dallas said she feels the team let itself down with the loss. She said the group could have shown more competition, but there was no focus. 
"(Bellarmine) is a championship caliber team. Next we go to conference tournament," Dallas said. "This was kind of like a prelude. This is what we're going to get in the conference tournament."
Dallas said the team needs to come out mentally tougher in its next game.
"Right now we have to redeem ourselves. We're kind of lucky we got another shot at it," she said. "
"
It's a new season, it's a new chapter. Now we're in post season."
— Randa Dallas
The GLVC tournament starts Sunday. The Eagles will play Saint Joseph's College in the first round. Saint Joseph's is the No. 6 seed and USI will enter the competition at No. 11.
"We just have to keep our focus and remember it's a clean slate," Dahlstrom said. "We gotta win our next conference game or we're going home. Everyone's playing for their life."
Leave a Comment