Women's basketball team ends 10-game losing streak
Sophomore Kaydie Groups helps lead USI past Maryville University by scoring a career high 27 points.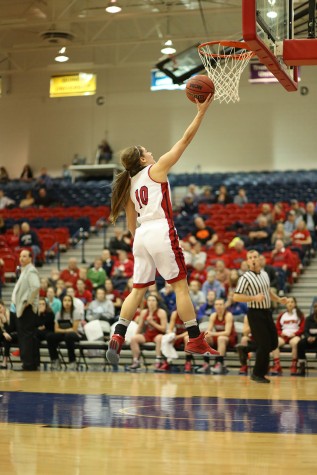 The women's basketball team played a full 40 minutes of basketball against Maryville University.
Assistant coach Randa Dallas said that was the biggest difference between the teams 74-61 victory Thursday night compared to the previous 10 consecutive losses.
"I've been harping that all season we haven't put a full game together," Dallas said. "We did that tonight."
Dallas said the coaching staff tried to communicate to the players that they just need one game to get them back on track. The team only has four games left in the regular season.
"That was one of the longest losing streaks I've been in in my life," Dallas said. "To get a win and to get it here at home was really special."
Sophomore forward Kaydie Grooms said the previous losses were a lot of games that could have been one. She said a difference for the team was it never went into a lull.
The team had three main focuses this week, Dallas said, including rebounds, turnovers and free throws.
The Eagles outrebounded the Saints 36-32 and shot 70 percent from the free-throw line. Dallas said that combined with stay under 15 turnovers, the team ended with 13, hit all of the marks from this week.
"Any other team would be like, we're in a 10-game losing streak, whatever, we'll just wait until next year," Dallas said. "We're not doing that. We're not that team."
Grooms helped lead the team off her career-high performance of 27 points. She and junior guard Tanner Marcum combined for 48 points as the only two team members who scored in double figures.
"Kaydie steps up every time we need her to," Dallas said.
The assistant coach said the staff tries to tell Grooms to get started from the beginning and not wait until they need her to score to make shots or grab rebounds.
Grooms said head coach Rick Stein told her to not get down if she misses a shot and she tried to just step into the next play.
"(We tell her) to come out and be ready from minute one," Dallas said. "She's been doing that. Goodness gracious, she picked us up big time."
Leave a Comment