Chick-Fil-A, Steak 'n Shake confirmed for fall
Burger King and Archie's Pizzeria will be replaced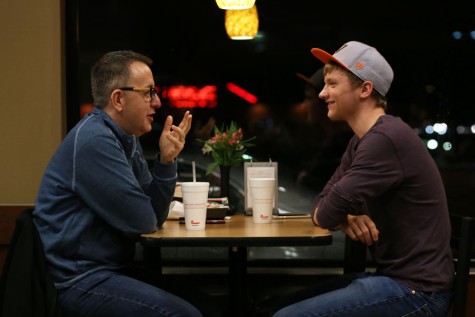 Chick-Fil-A and Steak 'n Shake will officially replace Burger King and Archie's Pizzeria, Sodexo Operations Manager Rebecca Diamond said.
She said Sodexo aims to have both eateries open Aug. 15, the Monday prior to the start of school.
"Just last week or so, Chick-Fil-A finally sent (confirmation) to our legal department," Diamond said. "Steak 'n Shake has been on board since the first phone call. They were very excited."
Aaron Gottman, Student Government Association's administrative vice president for university affairs, met with Diamond to share student opinions with Sodexo.
Gottman announced Chick-Fil-A and Steak 'n Shake are coming to campus for the fall semester at an SGA meeting Jan. 28.
In an interview with The Shield Feb. 2, Gottman said Sodexo was "92 percent sure" about the two eateries being established on campus.
He said Sodexo will remove Burger King and Archie's Pizzeria and install Chick-Fil-A and Steak 'n Shake over the summer.
"The only foreseeable problem is if people can't figure out where all of their equipment is going to go," he said.
Gottman said he's received many inquiries about the future of retail dining, so last week he asked Sodexo when he could give an official announcement.
"I had asked them because students were saying 'this' or 'that,'" Gottman said. "They said it was 92 percent sure, and they told me it was OK to start telling people."
He said Sodexo is still deciding specific hours for both restaurants.
"We addressed students that want food at 3 in the morning," Gottman said. "Stuff like that won't be implemented until five years down the line. The hours should be similar to Fiesta Fuego."
Diamond also said neither of the two new dining options will offer breakfast, at least in the beginning.
"Maybe (Sodexo) will have meetings with SGA to think about calendars and hours of operation," she said.
Sodexo began the process of replacing Burger King and Archie's in the fall of 2014, and then distributed student satisfaction surveys in February 2015.
The surveys asked students what sort of eateries they'd like on campus and whether there were specific places they'd want to remove.
During an SGA meeting in November, Diamond said Sodexo was "in the talks with Steak 'n Shake," but nothing had been signed yet.
She said Steak 'n Shake would specifically replace Archie's, and Chick-Fil-A would potentially replace Burger King.
Vice President for Finance and Administration Steve Bridges issued the following statement:
"The university is currently finalizing the transition from Burger King and Archie's Pizzeria to Chick-Fil-A and Steak 'n Shake. Project details, including date of availability and hours of operation of either new food offering, have not yet been confirmed."
View Comments (1)