Quilts blanket Pace Gallery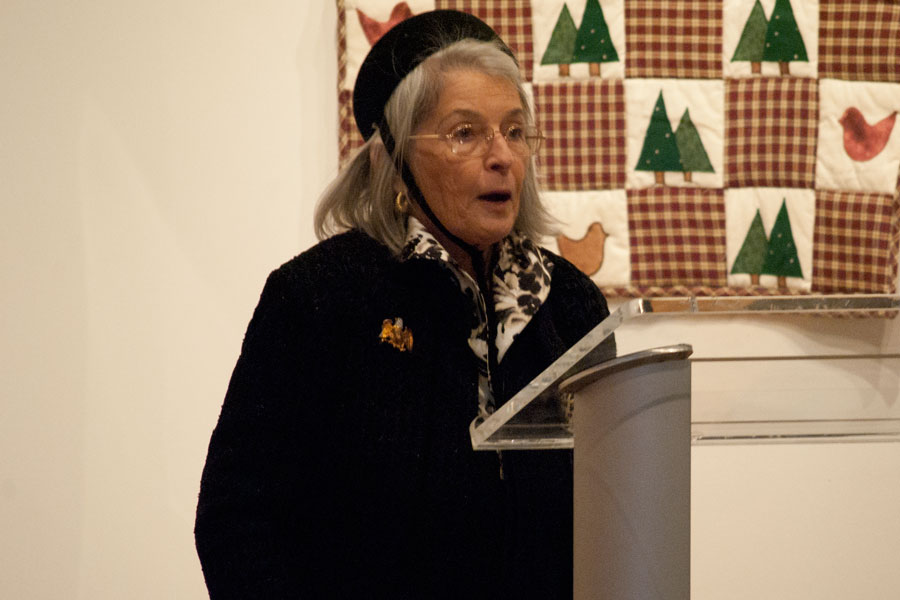 Judy Laval Morton said the best place to store a quilt is on a bed.
There was a reception for "Quilting in Community: A Celebration of a Southern Indiana Amish Tradition" from 2-4 p.m. Sunday in the McCutchan Art Center/Pace Galleries.
The exhibit runs through March 13, and showcases 22 of 130 quilts Morton and her late husband Tom donated to the university.
The class of 1973 has been collecting quilts, specifically Southern Indiana Amish quilts, for more than 25 years, she said. The Amish tend to auction their quilts anonymously, but Morton and her husband purchased enough quilts that she was eventually able to recognize a quilt maker by the quilt.
"As the years rolled by I got to know the families and was welcomed into their homes," she said. "They're very industrious, kind people who make quilts to keep people warm."
The local Amish community auctions off about 94 quilts the Saturday before Labor Day every year in Montgomery, Indiana.
Some of that money is used to cover the costs of hosting the auction, but the rest is given to the quilt makers to help support their families, Morton said.
Amish women often hold quilting bees, an event where a group of people get together to quilt.
"And then the women can get together and talk women things," she said. "It's an outlet for them in a way."
Quilts sell for  $700 to $2,000.
"Some of the quilt makers are very fast and they can make a quilt in six months," she said.
Married couples can also make quilts together, said  Susan Colaricci Sauls, exhibit curator. This is especially common for retired men who used to make saddles or other leather goods.
"I don't think I could do that with my husband," the university art collection registrar said.
Though she doesn't have a favorite quilt, Sauls said she enjoys the strong graphics in "Wild Geese" and "Amish Sparkling Star," both of which consist only of pieced together triangles and rectangles or squares.
The Midwestern Amish like dark backgrounds paired with bright colors whereas the Lancaster Amish prefer muted colors, Morton said.
Freshman Kelsie Droste attended the reception for extra credit in some of her classes. She has been quilting since she was in seventh  grade when her aunt introduced her to the art.
The art and engineering double major said she believes her aunt might be skilled enough to make quilts as well as the Amish, but she isn't yet.
"If I worked really hard I could maybe stick the blocks together, but I couldn't do the embroidery," she said.
Helen Elzer, a friend of Morton's, took pictures of the quilts to show her niece.
"I'm trying to teach her to quilt, so I wish she could have come with me," she said.
Elzer began quilting in the late 1970s while working in a fabric store.
"Quilting requires patience and requires precision," she said. "If you have these and know how to operate a sewing machine, you can quilt."