English department unites organizations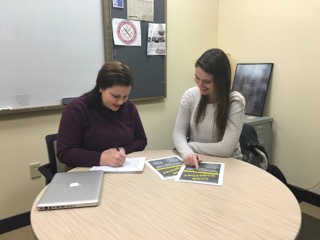 For the first time this year, five English Department organizations will be together as one during the Unity Series.
The English Department Unity Series is a collective series of events that will showcase different organizations within the English Department and is completely run by students.
Lauren Abney, a senior English education major, said the series will offer students a chance to meet each other outside of the classroom.
"In the English Department, sometimes we don't always know how many rhetoric majors there are or creative writing majors there are so we get to meet people with the same major or minor as us," Abney said. "As well as talks to students (during the event) who might not know if they want to add an English major or minor and say hey this what we are about."
There will be five organizations at the event: Sigma Tau Delta,the English honor society; Fishhook,the student literary journal; Student Writers Union the Medieval Studies Society and the Jane Austen Society.
"At the event, there will be Starbucks gift card giveaways," Abney said, "and it will just be an icebreaker for people that have an English major or minor or a love for English studies to come together and meet each other and get to talk about the organization's future events."
Abney said anyone who  has a love for English can come and meet the officers and get involved with the organizations during the first meet-and-greet Friday.
"Out of this whole thing, it really gives an opportunity for these organizations to grow," Abney said. "For example, I'm the editor-in-chief for Fishhook and I was just thrown upon it because unfortunately our previous editor-in-chief passed away… so I had to bring Fishhook back together."
Associate Professor of English Oana Sandu-Popescu said this year the department asked students what they wanted to do, which led to the four part series.
The four events will start off with the "Come Together" meeting, two workshops: creative writing and academic writing, and the final showcase will feature students' writing they have been working on.
"I would like to see the students talking to each other and realizing the strength in that collaboration," Sandu-Popescu said, "and see events that aren't organized by faculty, but by student interest. I think that's what we are getting this time."