Snow big deal
Inclement weather poses problems for students and faculty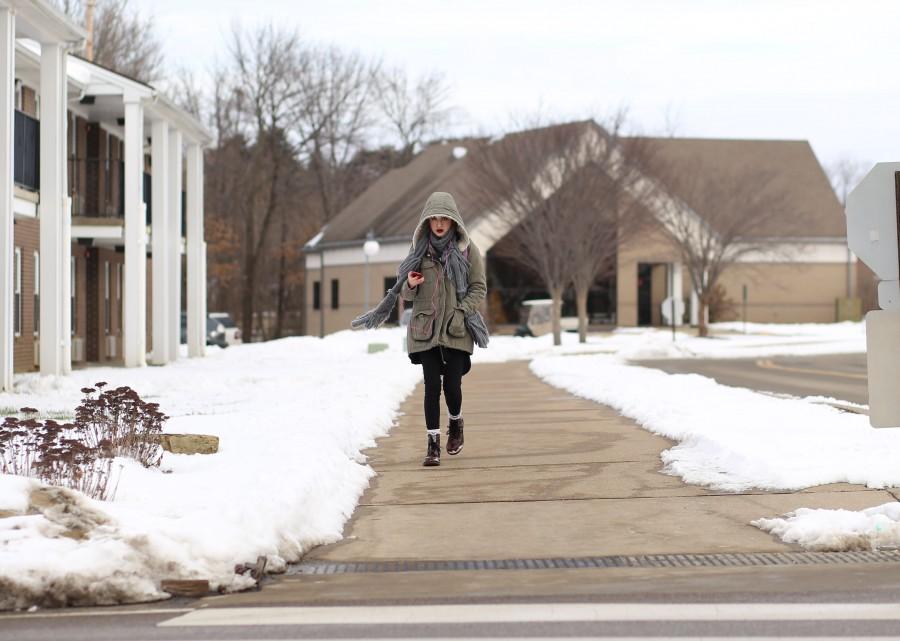 When snow hits, Tom and Andrea Drury face a dilemma.
Tom, a performing arts instructor, works at the university with his wife, an adjunct in the same department.
Tom and Andrea have two sons who need supervision: a nine-year-old named David and a six-year-old named Samuel.
While the Evansville Vanderburgh School Corporation canceled school Jan. 20 and 22, USI only canceled the latter.
"Between the two of us, (Andrea and I) have to decide who's going to stay home with the kids," Drury said.
He said they discuss their current course material and which of them has a greater need to hold class.
Drury's supervisor gave him permission to bring Daniel and Samuel to choir rehearsals.
"Bringing them to rehearsals like jazz band, they'd probably get a kick out of that," he said. "They probably wouldn't get a kick out of my theory quizzes."
Even though the boys have portable video game systems to occupy themselves, Drury said he wouldn't want to lock them away in his office during work.
Drury's wife just began work in higher education after 10 years in the public education system, so the situation is new to all of them.
Although snowy days can complicate his work and family, Drury said it's not an issue the university specifically needs to address.
"The university should only cancel classes as a last resort," he said. "Public school will make up those days. If we cancel, I lose that day forever."
Senior Stephanie Wade said the university needs to be more sensitive when determining class cancelation.
"If we have a strict attendance policy, we should have more snow days," the psychology major said. "Sometimes when they don't cancel, I have to judge for myself. My roads sometimes aren't cleared off."
Wade said the university should coordinate with EVSC's cancelation decisions.
"Sometimes teachers aren't even here," she said. "I don't want to drive and then find out (class) canceled."
Steve Woodall, director of Public Safety, said the university does consider roads students take to campus when it snows.
"Once we have a clear picture (from weather forecasts), we'll meet with the physical plant," he said. "If we're to have inclement weather, they'll start pretreating the sidewalks."
Woodall said if it looks like the university needs extra staff to keep campus safe, they'll start making arrangements for workers and equipment.
"On the day of the (snow) at around 4 or 4:30 a.m., I'll drive the state, local and county roads," he said.
Woodall contacts local and state police, county officials, highway patrols and EVSC to get a broader sense of the situation.
"I then call the provost and provide him with that information," he said. "Then a decision is made."
Woodall said Public Safety mainly bases its decision on whether or not the roads are passable, if the weather will get better or worse in a day and if the physical plant can keep up with the weather and maintain campus.
Typically, Woodall said, they try to make a recommendation to the provost by 5 a.m.
Even if the university remains open, Woodall said students must be careful.
"I can't guarantee a student will make it here safely," he said. "Anyone could have an issue any day. It's the same case in inclement weather. A person has to take some responsibilities for their own safety."