Graduate's diverse voice breaks barriers
Blinking through a teary gaze, Briony "Bri" Towler said graduation finally hit her.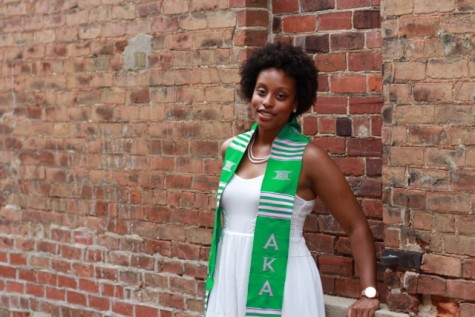 Blinking through a teary gaze, Briony "Bri" Towler said graduation finally hit her.
"I just realized that I've left behind a legacy," she said, wiping her eyes. "I found myself."
Towler, a finance major, found her voice through various leadership roles. She serves as vice president of the Black Student Union and the president of the Tau Rho chapter of Alpha Kappa Alpha Sorority.
"In the past year-and-a-half, a lot of things have changed in how loud (black students) are. We have a voice," she said. "We have to say the truth about diversity, but come up with strategies to change (the present)."
Towler used her positions as a speaking platform for diversity and said the university will always have room for improvement.
In the midst of racial tension, Towler said she doesn't put those judgments on herself.
"I don't really think about it. I brush stuff off and focus on myself," she said. "It's easy to get wrapped up in the bigger picture, but you have to focus on you."
Towler will graduate during the tenth fall commencement with 349 out of 559 eligible students Saturday.
Cindy Brinker, vice president for Government and University Relations, said fall commencement represents about 62 percent participation of students eligible to graduate.
"That's really good," she said. "We've had larger graduating classes than this, though. It's normally between 550 and 620 (students)."
An Indianapolis native, Towler said she decided to attend USI because of its accounting program and small class sizes.
She said during her freshman year, she was homesick and on academic probation. Sophomore year, she said she worked on changing her work ethic.
"I got better grades and was constantly improving and figuring out what I liked," Towler said, initially an accounting major. "I decided to switch majors to something I liked (finance) and adding a minor in economics."
Towler was one of the founding members of Alpha Kappa Alpha's Tau Rho chapter in 2013. The chapter was the first African-American sorority chartered at the university.
"When I came into the sorority, I started out as treasurer, but I was like a baby, always upset about something," she said. "I went from that to being a true representative as president."
Towler is also proud of the progress the Black Student Union has made during her time at the university but still feels the university needs more cultural awareness.
"I'm big on supporting diversity with professors and having professors that are diverse and match the student population," she said. "It would really have the ability to make more of an impact and break a lot of glass barriers."
Towler said she hopes the university makes a deliberate effort to recruit diverse students.
"I am a black woman. I don't expect other students to look like me," she said. "I'd say 85 percent of my college career, I'm the only black student in my business classes. I've become a scarce opinion."
Multicultural Center director Pam Hopson said Towler is a go-getter.
"She's an activist," Hopson said. "If she knows about (an issue), she's going to follow through on trying to get it resolved. She's not someone to let something go."
Hopson said Towler has changed from the quiet freshman she initially met four years ago.
"She struck me as quiet, but studious," she said. "She's blossomed while being on campus. She has found her voice."
Towler has already found employment at Charles Schwab, a banking company, starting in January. She will work as a "middleman" between clients and staff and develop client relationships.
She said she has definitely made the most of her time at the university.
"Those who have seen me grow would say I'm a lot stronger," Towler said. "(College) was fun. It's important to keep yourself in mind. That's the most important thing—yourself."
Commencement consists of one ceremony at 10 a.m. for the Romain College of Business, College of Liberal Arts and Outreach and Engagement, and a second ceremony at 1 p.m. for the College of Nursing and Health Professions and the Pott College of Science, Engineering and Education.
Of the 559 graduating students, 91 are graduating with academic honors. Ten students are graduating summa cum laude, 34 magna cum laude and 47 cum laude. There are ten University Honor Scholars, or students who successfully complete the honors program.
Degrees include Doctor of Nursing Practice, master's degrees, baccalaureate degrees and associate degrees.
The ceremony will be livestreamed at usi.edu/it/commencement or in UC East 2217-2218.