Alumnus co-creates food finding app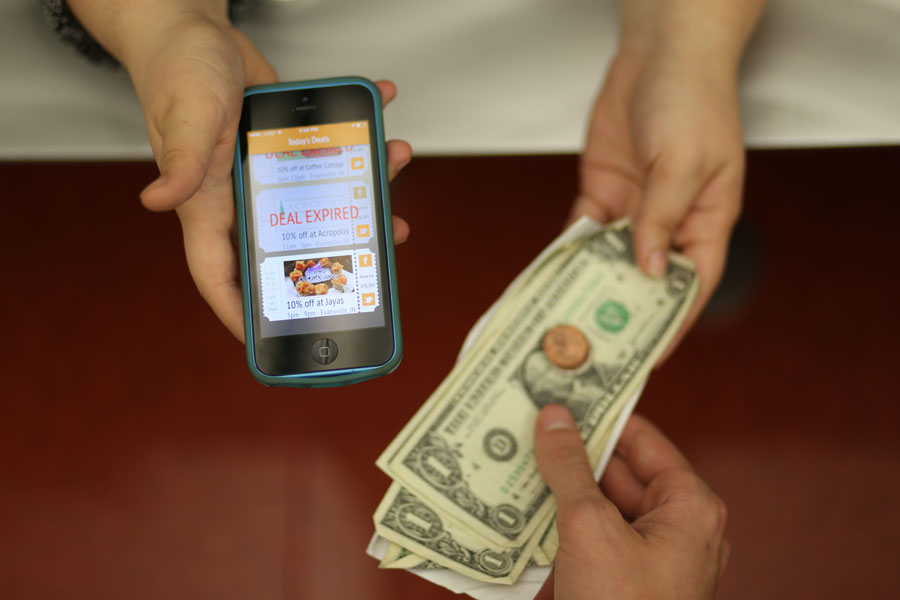 An alumnus co-founded a new coupon app, to help save people money, support local restaurants and answer the question: where should we eat?
The Dough Deals app is free to download. Each day it features coupons for three different restaurants, one for breakfast, lunch and dinner. Users of the app simply need to show the coupon on their phones at the restaurant to redeem a deal.
Bradley Davis, co-founder of Dough Deals, said the app will be based on geolocation.
"If you're in New York and open the app, for example, then it will be responsive to the location and show local restaurants in the area," Davis said.
Not only is the app free to download, but restaurants are not charged to be featured on Dough Deals.
"Groupon and all these other places generally get paid, so the restaurant that has the most money gets the most face time. It's hard to find local restaurants because they don't have the money to advertise," Davis said. "With us it's different."
Local restaurants partnered with Dough Deals, choose the day of the week they would prefer to be featured and decide on a deal to offer on the app.
"The percentages are mostly based on the restaurant, but we try to keep it around 20% off," Davis said. "Users get an additional percentage off if they use the app to share the restaurant on Facebook or Twitter."
Occasionally Dough Deals features promotional deals, such as an upcoming coupon at Azzip Pizza where users of the app can receive free breadsticks when buying a pizza.
Davis said the app is meant for anyone over 18 and the user base changes depending on the location of deals.
"It just depends on where the restaurant is," Davis said. "We target a very broad range of people. We pride ourselves on that, but it's also what makes it difficult."
Davis said the Dough Deals team is continuously working to improve the app based on user response.
"This is something really cool that's happening in Evansville, and it's really hi-tech," Davis said. "We have world-class developers working with us in California and the app is based in Evansville. That doesn't happen often, and it's a big deal. We don't want people to think that we're working out of our garages coding a little app. It's a lot bigger than that."
"Groupon and other similar apps are convoluted and include many other options like entertainment and business," Cole Raven said. "So we wanted to make a very simple app that only helps people figure out where to eat."
Raven, co-founder of Dough Deals, said 40 local restaurants currently work with Dough Deals, and five restaurants are added on average each week.
"It used to be we'd call (the businesses), now they call us, or they go to our website to sign up," he said.
Raven said Carne Asada, a new local barbeque restaurant, messaged the Dough Deals team on Facebook after partnering with the app to tell them that they had their best business day ever because of Dough Deals.
"My favorite part of running Dough Deals is getting feedback from restaurants and hearing how many customers used our app," Raven said. "That's what makes me feel good about it."
Dough Deals, which exclusively features local restaurants, has almost 2000 users in Evansville. Raven said he and his co-founders are paying to have the app completely redesigned in order to take it nationwide.
"It will look much more professional because we're preparing to expand to other cities—Bloomington, Louisville, St. Louis, Nashville—the surrounding area and the region," Raven said. "We don't think it's ready to go nationwide the way it looks right now, so we're paying to get it completely redone."
Since its founding Sep. 28, Dough Deals gained an average of 1000 users per month. Considering the current interest in location-based advertising, Davis said he and his co-founders expect Dough Deals to continue to grow.