USI propels students, faculty, community
The university's Strategic Plan, approved by the Board of Trustees in 2010, included six goals USI aimed to meet by 2015. As for the goal of being a leader in Indiana and the region, Mark Bernhard said the university did well.
Over the course of five years, committees specific to each point of the plan met. Bernhard worked with his committee to seek leadership improvement in collaborative expertise, applied research, accessibility and visibility, according to the university website.
The six goals of the strategic plan included enhancing experiential learning opportunities, increasing the graduation rate, preserving and nurturing the campus community, increasing diversity of faculty, staff and student body, becoming a 24/7 campus and providing leadership to Indiana and the region.
"Having a strategic plan has allowed us to focus on specific areas," said Mark Bernhard, associate provost for Outreach and Engagement. "Because that (plan) was there, we were constantly asking ourselves how we could provide leadership in the region."
Bernhard said the university's $3 million grant from the Lilly Endowment in 2013 allowed for the development of programs for both students and community engagement.
He said the I-69 Corridor Initiative was one of the biggest projects under the Strategic Plan.
"It's a regional, multi-partner collaboration that includes USI as well our (Crane) naval base, which is about 75 miles away, as well as local economic development organizations, companies and other higher education institutions," Bernhard said.
The USI Innovation Corridor project consists of researching southwestern Indiana economically as well as how the area can be used innovatively.
"There, we're really looking at how we are telling our story and how we're selling Evansville and the surrounding area as an innovation hub," Bernhard said.
In addition to the I-69 Corridor project, the university has expanded its partnerships with the community.
"We do a Startup Weekend Evansville, which is a program that brings in entrepreneurs that are both students and community individuals who would be interested in creating a startup business," Bernhard said. "We provide the opportunity and the space every February."
The Center for Applied Research, a division of Outreach and Engagement, Bernhard said the center completed 50 projects within the community with another 21 projects in progress.
Examples of those projects include opening three different community health centers and helping Habitat for Humanity.
He said the $3 million 2013 grant stays effective until 2019.
"We constantly have to be looking at funding beyond 2019," he said. "We really want to look at how we can diversify our funding streams as the years go by."
Through projects over the last year, Bernhard said the university impacted 32 counties and four states, served 58 organizations, involved 38 faculty and staff and 27 students.
"Whether it be to help set up a community center in Glenwood or have faculty and staff serve on non-profit board or doing research, I think all of those activities show that USI cares about our region," he said.
Student Government Association President Alexa Bueltel said her organization will promote networking with other student governments in the region through the Student Government Coalition Conference.
SGA took the opportunity to host the conference and establish the university as a regional leader in student governments as well as to learn from peers.
"Our conference is really to invite other student governments from across the region to come together and network and see how they work and what they're working on," Bueltel said.
SGA will host the student government conference Nov. 13-14. Bueltel said she currently expects 100 students from eight to 10 schools to attend.
"We decided this would be not just a great opportunity to showcase our student government and what we do and we accomplish, but also just our university as a whole because it's such a great place to be," Bueltel said.
About the Writer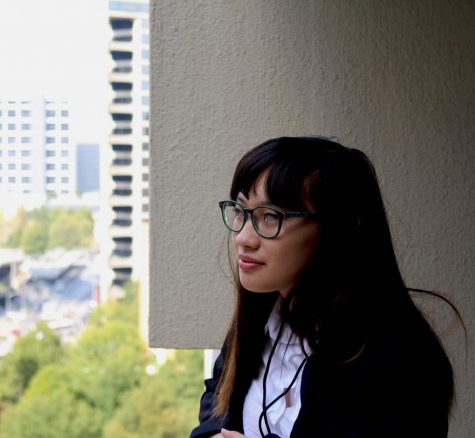 Gabi Wy, Editor-in-Chief
Gabi Wy is a junior majoring in journalism and criminal justice.