Faculty Senate discusses campus safety
Faculty Senate raised concerns with Director of Public Safety Steve Woodall Friday in light of the recent Umpqua Community College shooting.
Woodall said campus security looks tighten security for classrooms. Currently, some classrooms can be secured from the exterior, but oftentimes teachers keep the doors propped open.
He addressed the recent articles emerging that state USI is the only public four-year university in Indiana that does not have armed officers on campus.
"We have a significant presence of law enforcement," he said. "They're here for main events, evenings and sometimes during the day. We're looking for a way to increase that presence."
Senators voiced concerns about the availability of the university's campus map online. Woodall said he could bring the issue to the appropriate department.
Gabriela Mustata Wilson, assistant professor of Health Services and Administration, brought up other universities' strategies for campus map availability, including apps that would ensure only faculty and students with an ID number have access.
Vice Chair Cindy Deloney-Marino said she didn't know the university stood alone in Indiana in its lack of armed security.
Woodall's response emphasized his previous statement that campus security is working to increase security presence.
Assistant Professor of Management Jason Fertig asked Woodall how to respond to students with suspicious behavior.
"That's how a lot of these campus tragedies happen," Fertig said. "When somebody saw somebody acting weird or notice some strange behavior."
Woodall gave several options in response to Fertig's inquiry.
"We have a very robust CARE Team," he said, referring to the Campus Action Response and Engagement Team. "If it's not necessarily an emergency, I would submit a CARE report … if it's an emergency, just contact Public Safety. We're going to respond if it's a person in an emergency crisis, and we'll have law enforcement respond too."
Woodall said as faculty and staff everyone has a responsibility toreport suspicious behavior in order to maintain safety on campus.
"It's important to get that information out earlier than later," he said. "(According to the latest FBI research) the majority of shooters display what the FBI is calling leakage. Leakage means that these individuals in crisis have actually had some issues, behavioral issues, and people didn't report it."
Woodall said he and Assistant Director of Public Safety Steve Bequette will always find the time to help faculty with safety concerns.
"We have to play 'what-if,'" he said. "What if something happens here? What if the fire alarm goes off right now? Most of us know what to do. Others do not."
Woodall made his last comments before leaving the meeting.
"We're here," he said, "and, knock on wood, we're very lucky that not much goes on here."
About the Writer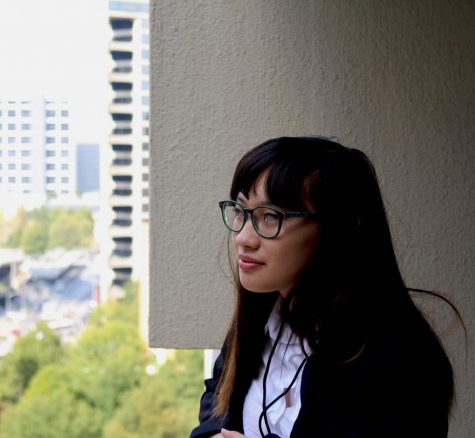 Gabi Wy, Editor-in-Chief
Gabi Wy is a junior majoring in journalism and criminal justice.