Rooftop Batcop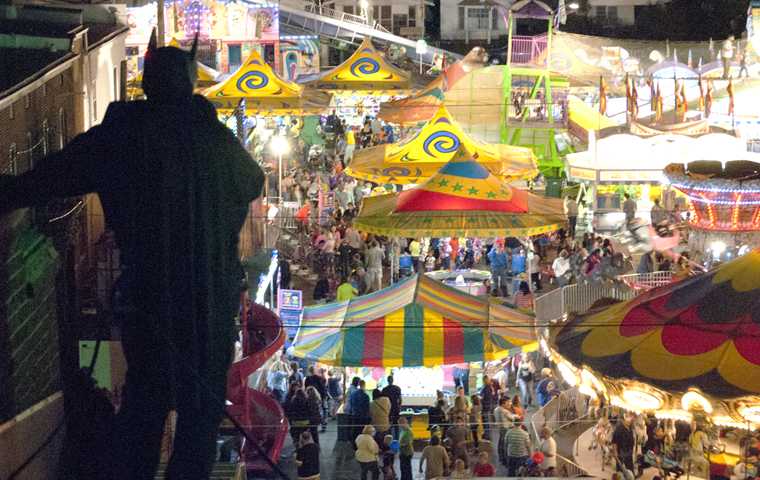 Beyond the lights of the West Side Nut Club Fall Festival a man dressed as Batman stood atop Gerst Haus on Franklin Street to observe  festival goers and protect them from harm.
That man is S.W.A.T. Officer Taylor  from the Evansville Police Department (EPD) who has taken his security role to new heights.
The Batman impersonator said his love for the superhero inspired him to throw a mask on and wave at the children and their parents attending the festival.
"I would actually much rather work up there than on the ground," Taylor said. "There are a lot of reasons for that. Most of it has to do with (the fact that) you can see more."
Taylor said standing on buildings sometimes makes him feel like he is in a Batman movie.
"Occasionally in the movie they show (Batman) watching over the city," he said. "Standing up there is kind of what that feels like."
Taylor said he enjoys the seclusion of being up on the building alone.
"I'm not a crowd fan. I don't like being around large groups of people," Taylor said. "So, that's probably why I'm more comfortable up there."
The officer has been a part of  EPD for 13 years and on the S.W.A.T  (Special Weapons And Tactics) team for eight.
Taylor said the department has been doing the watch from the buildings for about five to six years. Batman has only appeared at the festival for two.
The impersonator  said at first he didn't see being Batman as that big of a deal, however, he knew it would have an impact on the kids.
Taylor said a lot of the police officers' children came to see Batman, and they would bring their children at a specific times when he was there in order to see him.
"Even the teenagers that normally look at us and say, 'Oh, there is the police' were waving and hollering," Taylor said. "It is all in good fun."
Ray Smith, patrolman for the EPD said he liked how "Batman" was off in the dark, like the dark knight.
Smith and his brother participated at the Fall Festival by giving out free hugs. He said the Chief of Police got the idea after talking with another department and thought the brothers were good candidates for it.
"We wanted to reach out to the community and show our appreciation for the community," Smith said. "There has been a lot of negative outlooks toward police officers here in the media lately, and we want to give them something more positive."
Smith said that Monday where he gave out free hugs was his favorite day of the Fall Festival.
"I still get approached about the hugs," Smith said laughing. "I am still freely giving them."
About the Writer
Megan Thorne, Editor-in-chief
Senior Journalism and Art (emphasis in photography) double major with an Art History minor, I am always ready to take on a story and crave adventure.


"I...