Deep fried photography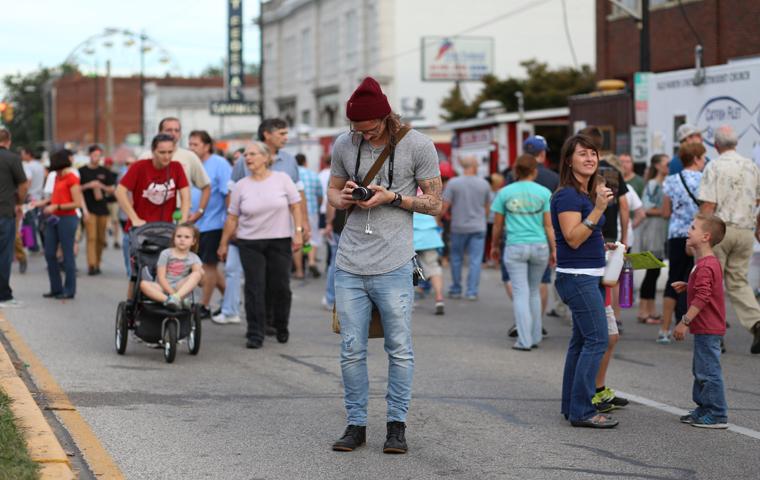 Greg Niemeier, a radiology technologist at Deaconess Hospital is determined to capture the meaning of the West Side Nut Club Fall Festival, with a Sony Nex-5.
Many flock to the Fall Festival for the food, Niemeier said, but he's after something much better.
Niemeier, a USI alum, who majored in radiologic and imaging sciences, said for three years he has gone to the fall festival to capture the "strangest things possible."
The 94th annual Fall Festival will feature more than 130 food booths, free entertainment, carnival attractions, people watching and on the last day, a parade.
"Fall Festival has got the best people watching. There are people from all over. I think it's kind of like people of Wal-Mart but for a festival," Niemeier said.
He said his love for observing people developed when he worked at the mall for a number of years, where the only thing he got to do there was people watch. He feels the Fall Festival is the perfect place to observe.
"I think it's pretty fun watching people stuff their face, just sitting there," Niemeier said.
The first year, Niemeier said, he went with his camera and his friends, and they would point out different people doing strange things.
Niemeier said a lot of the time walking down the streets of Fall Festival, he finds himself doing a double take and wondering if what he saw was actually real.
"Sometimes you see someone dressed in an outfit you never even thought existed," he said.
He said he observes "crazy dressed" people, or someone worth taking a photo of for a period of time, but for the most part, he enjoys photographing people eating.
"A lot of times I feel like the funnier (photos) are of people eating corn dogs," Niemeier said. "It's absolutely hilarious."
Niemeier said he tends to go down to the fair almost all day for five days, and it has become a big deal to him. The best part, he said, is photographing someone without them noticing.
"Most of the time I am pretty good about staying back," he said. "I can get pretty decent pictures, without being noticed. But now and then someone calls me out on it."
Niemeier said there are a lot of people around, so it is hard to prove that he is photographing just one person.
"If I am with my friends, I use them as a prop, like I am trying to take a picture of them," Niemeier said, "but I am really focusing on something completely different."
The photographer said he really only takes pictures for personal entertainment, and thoroughly enjoys taking photos of people without them noticing. He feels it makes taking photos more fun.
"For Fall Fest in general, I don't really partake in the food a lot down there," he said. "I really go there just for the people. I just walk laps around there for hours at a time."
Although he isn't a photographer, he said people have asked him to start a calendar.
"Every year I get about a dozen pictures, but usually three or four really good ones," Niemeier said. "After this year I hope to have enough pictures to do a decent calendar. I think it will be pretty funny."
About the Writer
Megan Thorne, Editor-in-chief
Senior Journalism and Art (emphasis in photography) double major with an Art History minor, I am always ready to take on a story and crave adventure.


"I...