'Value based' sororities welcome newbies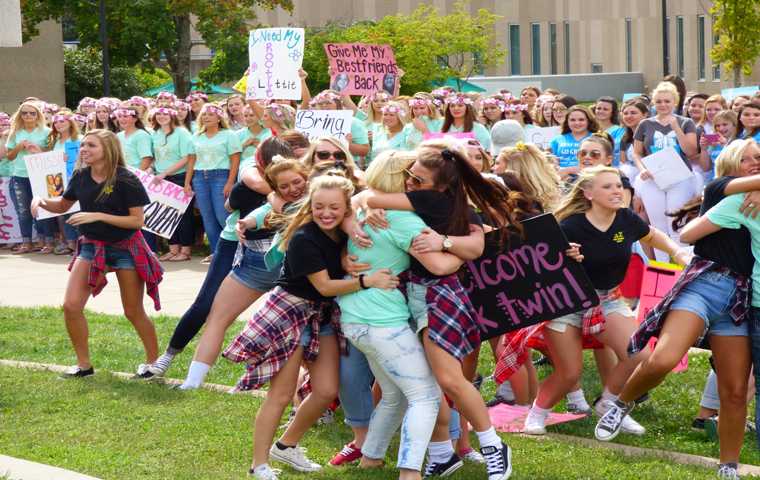 The 2015 Sorority Rush week saw one of the highest turnouts for potential members.
Rush is a multi-day event where existing chapter members greet girls and introduce them to sorority life and what it means to belong to a sisterhood.
The week concludes with Bid Day, which is when campus  sororities extend invitations (bids) to potential new members who are considering joining their chapter. Then each girl finds out what sorority has chosen them.
Brooke Stemen, head of recruitment, said on the first day potential members visit all five chapters around campus  they are considering joining.
"Then the number is steadily decreased until they decide on the two chapters they would want to join," Stemen said.
The day is meant to be a fun time where potential members socialize with existing chapter members and get a feel for what sorority life is all about, she said.
"(Bid Day) is when girls visit the two chapter's they chose, and are shown the chapter's philosophy and get to partake in the chapter's ritual," Stemen said.
Emotions flow from both potential members and existing ones, she said.
"This year's turnout was larger than previous partly because a newer chapter, Tri-Sigma, was just introduced onto the campus. We saw a total of 250 potential members this year," Stemen said.
On the final day, when potential members are deciding between the two  sororities they wish to join, each chapter holds a party or a formal gathering.
These parties are to introduce potential members to what it means to be a part of a sorority, its cultural philosophy and what the sisterhood can offer them.
When new members are taken to a party they are supervised by recruitment counselors.
"We disaffiliate from our chapters starting Aug. 1 to give girls an unbiased outlook on each chapter, and what that chapter offers them," Alexa Husmann-Miller, a recruitment counselor, said.
When the girls arrive at a party location they are put in alphabetical order and then roll is called.
"Every chapter does their parties differently," Abby Schreyer, a recruitment counselor, said. "We don't know what's going on in there, but each potential member is paired up with an existing member that they associated with in the past."
Each party is required, however, to adhere to strict guidelines set to give each chapter equal opportunity with each potential member.
Chapter parties are held at different locations on campus, and each party cannot last any longer than 65 minutes.
There are a total of five parties, one for each chapter, and each party is held at different times during the day. Each party can host one group of girls (a total of 60) at a single time.
"With the addition of Tri-Sigma the number of chapters in the National Panhellenic Council increased to five," Victoria Fromm the Panhellenic president said.
There are a total of seven chapters at the university campus but only five are a part of the National Panhellenic Council.
These chapters all have their own united council and work closely when conducting events on campus.
"We are all value-based communities," Fromm said. "We focus heavily on philanthropic goals for our members and their grades as well."
The other two chapters are a part of the National Pan-Hellenic Council and act independently from the other five.
"Our unique culture and value," Fromm said, "and values are what set sororities and fraternities a part from the rest of the university community."