Manager hopes for health center's central location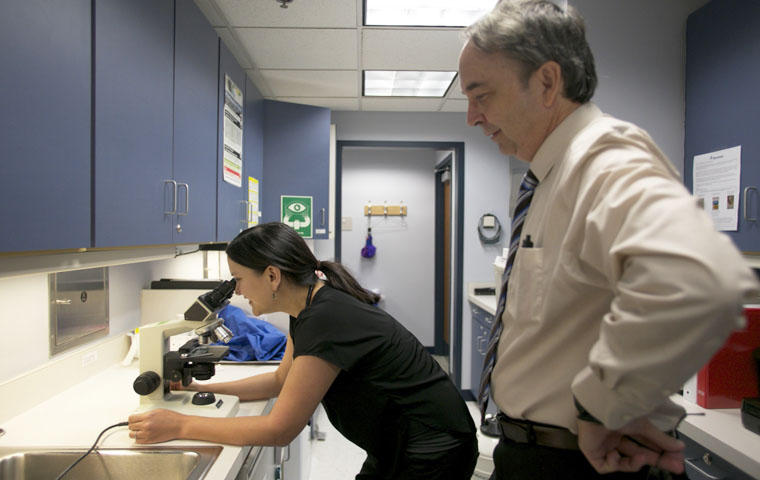 The University Health Center is placed in an inconvenient spot, said Brandy Sitzman, the health center's practice manager.
"We have a location issue on campus," Sitzman said. "We are trying to use our small space most efficiently."
In the future, Sitzman hopes to have a larger health center centrally located on campus and easily available to any students and faculty needing assistance.
"I want to work with housing and athletics in the future to see what we can offer them." Sitzman said. "We really put a focus on what services we can provide students and faculty with, but we are very limited by our size and location."
The issue not only poses a problem for the health center, but for students as well.
When a student is sick or injured but is unable to utilize the health center due to ignorance of its location, a vital university resource is put to waste.
"We are trying to get more information out there to let students and faculty know where we are and that we are here to help," Sitzman said.
The health center has been a part of the university since its establishment, but is not actually managed by the university.
"We are a Deaconess clinic on campus for the sole purpose of treating faculty and staff," Sitzman said, "though we do work very closely with the College of Health Professions."
The health center is a basic walk-in clinic that treats a wide range of student and faculty needs.
"We see many acute things," nurse practitioner Melissa Attebury said. "From injuries to physicals and medication refills–we treat it all."
Almost every student is given an "office-visit plan" that is included alongside basic tuition. It allows students to utilize the health center at discounted price and charge rate.
"It's a really good deal, for faculty and students especially. I feel we try our hardest to give the best care possible." Attebury said.
The clinic works closely with up and coming nursing students by giving them professional hands-on experience.
"We run a mobile flu clinic," Attebury said. "We offer students flu shots required by their program, but administer them in a time and place of their choosing."
This helps work around students' hectic schedules by letting them choose a familiar and comfortable environment on their own time.
"We allow nursing students to administer the shots under supervision so they are able to gain professional experience." Attebury said.
The health center hopes to widen its range to include all university organizations that could benefit from what the center has to offer.
"We provide great services to everyone and I think we do a great job," Attebury said.
Gabi Wy contributed to this story.