Risque musical to show at Performance Center, includes Broadway vet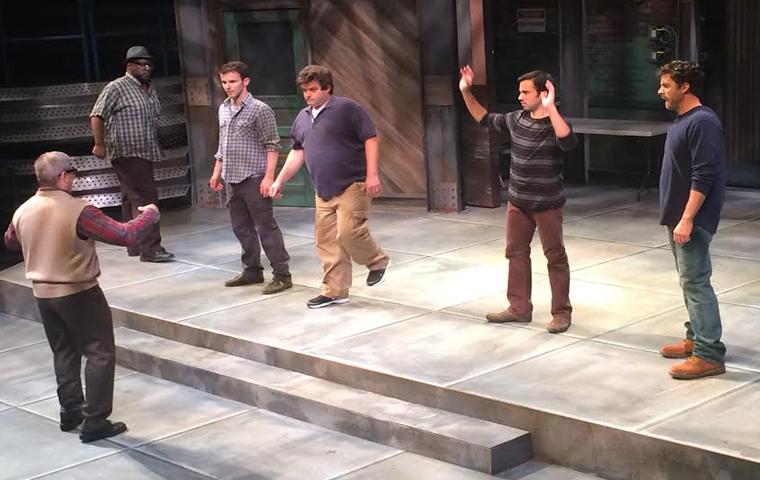 For Eugene Gwozdz, learning the music for New Harmony Theatre's upcoming production was like blast from the past.
The musician will once again produce tunes for a musical that really bares it all more than a decade after its curtains closed on Broadway.
"The Full Monty" will make its way to the Performance Center Friday through Sunday and again July 16 through 19.
The musical centers around a group of unemployed men who turn to stripping to make a living.
Gwozdz will direct a 12-piece orchestra, which will play tunes from the musical's original Broadway production.
"It was a matter of listening to the music and it came back really quick. I did the show over 15 years ago," Gwozdz said. "Which is when 'The Full Monty' was the favorite to win the Tony. It should've won best music, best musical and best directing. Everyone was on a high about 'Full Monty' and how it was a hot show."
Although the music didn't prove challenging, Gwozdz said, the rhythms for the brass section are more complicated than normal. He said it was vital the musicians got those rhythms in tune.
"It's a great musical and it's so much fun.  It's really R&B, funky and rock. Its got that great brass and guitar," he said. "We got an amazing band, and I love playing the upbeat music."
This is the first time New Harmony Theatre  use the new Performance Center.
Eric Altheide, the musical's director, said he hopes this will bring in new audience members to see the quality of work the theatre produces and drive attendance to their productions at New Harmony's Murphy Auditorium.
"This is one of the most funny, heartwarming and entertaining shows I have ever seen. It is contagious," Altheide said.
He said the musical is an exciting collaboration between professional actors, community actors and former students.
One of his favorite parts of this process is working with fellow artists, Altheide said, it's fun to explore and find the play together, especially seeing the characters come to life and gain clarity.
Bridgette Hoover, a 2013 USI graduate, plays the role of Estelle Genovese. She said that preparing for her role has been a "piece of work."
"To get into character for Estelle I will usually find a little corner somewhere and put on some music to get my blood flowing," Hoover said. "She is a character that is very high energy and loves to be the center of attention, which is the exact opposite of me. I am usually a little more collected and goofy."
Hoover never intended on being in the show and simply wanted to "brush up on her auditioning skills."
The actress asked Altheide if she could audition for the USI Theatre production of 'Spring Awakening' to get her creative juices flowing. During callbacks, he asked Hoover to join the cast of "The Full Monty."
"It was truly a surprise that he was that impressed by my audition and had enough faith in me to join this amazingly talented cast," Hoover said.
She is in awe when it comes to the new performance space, Hoover said, saying that she was part of the group that pushed for the creation of the Performance Center.
"Every time I step onto the stage I take in every moment because it is wonderful," Hoover said. "It is such a blessing to have the opportunity to work there because some of my fellow alums might not have the opportunity, so I have to represent for them."
Fast Facts:
What: New Harmony Theatre presents "The Full Monty"
When: 7:30 p.m. Friday and Saturday, 2 p.m. Saturday and Sunday.  7:30 p.m. July 16, 17 and 18 and 2 p.m. July 18 and 19.
Where: USI Performance Center
Cost:  $35, discounted tickets are available for students and seniors.
For more information or to purchase tickets, visit www.newharmonytheatre.com or call 812-682-3115 or toll free 877-NHT-SHOW.
Parental advisory: "The Full Monty" includes adult language and content.