Supernatural art exhibit comes to New Harmony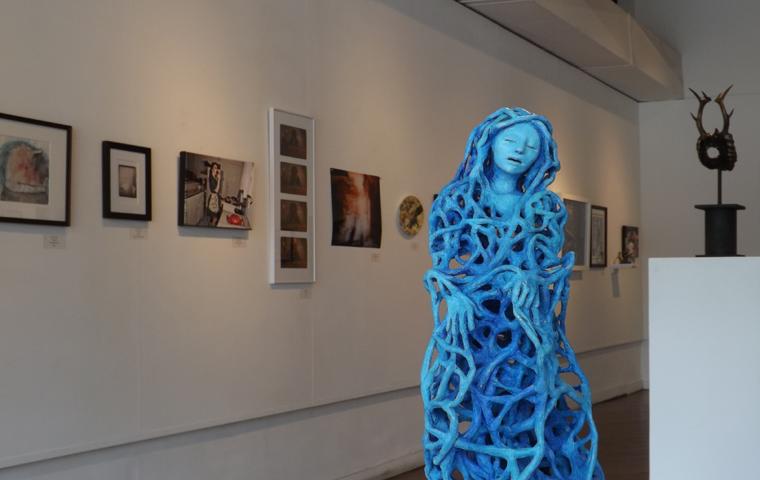 The New Harmony Gallery of Contemporary Art has filled its walls with mythology and mystery.
The new "Supernatural" exhibit is on display through July 17 in honor of the 40th anniversary of the gallery and its 30-year partnership with the university.
"The exhibition is part of an ongoing series meant to build connections between regional art communities," said Garry Holstein, director of New Harmony Gallery of Contemporary Art .
He said that the main idea behind "Supernatural" is to get in touch with the rising popularity of  "Game Of Thrones," "Harry Potter," and "Lord of the Rings." And at the same time helping artists connect with modern life by giving them interpretive freedom.
"I think one of the strengths of exhibitions focused on popular culture is that they provide attraction and accessibility for people that are not current gallery patrons," Holstein said.
This exhibit features a diverse range of emerging and professional local, regional, national and international artists, which  Holstein said helps patrons of all backgrounds connect with the dialogue and works of the artists.
"It is my goal that the gallery exhibitions will contribute to the unique cultural identity that has been cultivated by USI and New Harmony," Holstein said. "These exhibitions not only expose the gallery and USI to artists and patrons from the network of the curator, but also provide for an influx of new ideas into our local art community."
Paula Katz, an independent consultant based out of Indianapolis, said this exhibit has something different to offer patrons.
"It is meant to be taken tongue-in-cheek," Katz said. "So I would say a sense of humor is what this show has that is often missing in 'high art' shows."
Katz's inspiration spurs from contemporary culture, TV shows, movies, video games and even literature that tends to revolve around fantasy characters, she said.
"I am particularly interested in those that create "other" using werewolves, vampires, zombies, etc.," Katz said, "but plays off the idea that within these subcultures there is still notions of good and evil. "
Meagan Patterson, a senior psychology major with a minor in art and heritage administration, said it's her favorite exhibit since she started working at the gallery.
"I love how people look at the pieces and just automatically assume it's creepy or scary," Patterson said.
It allows me to explain what the artist is trying to convey in their artwork, Patterson said, which is usually different from what the viewer assumes.
"Kristen Wilkins' photographs are my favorite by far," Patterson said, "They are photographs of faceless or headless people. She explains the photography takes of the individual absence and affirms their uniqueness."
Patterson said Wilkins' photographs focus on the details that survive time but at the same time acknowledging their loss of identity.
"I find these very interesting because, although we do not know these people, we can see features about them such as posture, clothing, and hairstyle in some," Patterson said, "and make inferences on their identity based off of those features."
The gallery's regular hours are 10 a.m. to 5 p.m. Tuesday through Saturday and noon to 4 p.m. Sunday.
A reception for "Supernatural" will be held at the gallery from 4-6 p.m. July 11.
About the Writer
Megan Thorne, Editor-in-chief
Senior Journalism and Art (emphasis in photography) double major with an Art History minor, I am always ready to take on a story and crave adventure.


"I...