Spring musical cast hopes to open parent, child dialogue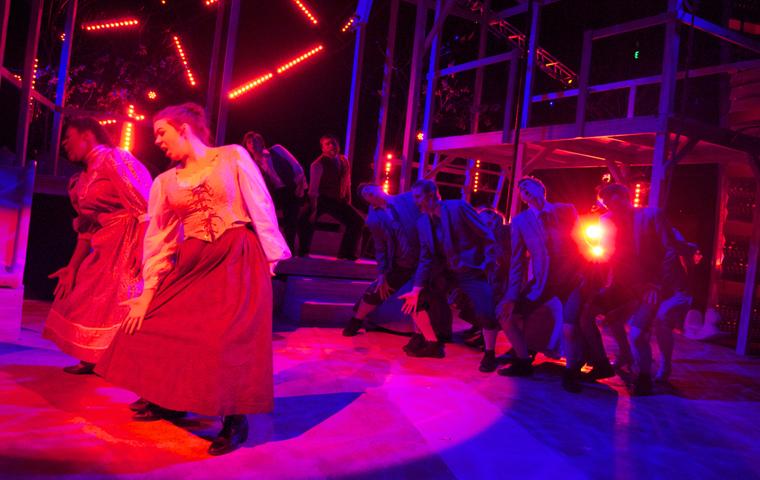 Abortion, teen pregnancy, unprotected sex and homosexuality: these are themes Presley Roy hopes won't deter potential viewers from the university's upcoming production of "Spring Awakening."
"The point is that these are things that happen, and these are the possible consequences when you don't talk about them with your kids," said Roy, a senior theater major. "We're not glorifying these things, we are showing you the consequences – the good and the bad."
The rock musical, adapted from the German play of the same name by Evansville native Steven Sater and Duncan Sheik, opens at 7:30 p.m. Wednesday at the USI Performance Center and runs through Sunday.
The musical follows a group of angst-driven teenagers as they cope with the trials of becoming adults and the perplexities of their sexuality.
During Monday's first dress run-through, the "Spring Awakening" cast performed intense folk-infused rock tunes that address perpetual topics such as suppression and abuse.
The students danced in front of bright lights and discussed intimacy under soft, purple hues that flooded a wood-framed scenery draped in broken swings and plastic playhouses
Roy plays Wendla Bergmann, the youngest but most physically developed of the group who's prompted by her changing body to ask the question, "Where do baby's come from?" but receives an ambiguous response form her conservative mother.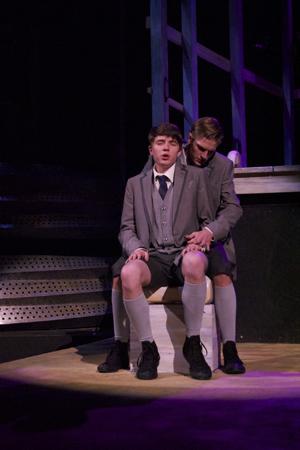 "As (Bergmann's) going through the show and progressing, she's learning it all right there and it's just like hitting a brick wall," Roy said. "Everything is happening, and even as it's happening, she still isn't quite sure what's going on."
Show Director Eric Altheide ("Avenue Q" and "Next to Normal") said he was careful to keep the message alive amid the intense drama it portrays.
"The whole show is about the dangers of parents not talking to their kids," Altheide said. "The fact that sometimes we do the most danger to our children not by the things that we've said but by the things that we've left unsaid."
The assistant professor of theatre said he wanted to represent the parents in such a way that's not completely vilified.
"You kind of understand where they're coming from," he said. He hopes viewers aren't afraid to accept the wrong moves that both the parents and the kids make during this play.
Brandis DeWilligen said she relates to her role as the "bohemian, gypsy" Ilse Neumann, having grown up in a conservative home with her mom a preacher.
"I know that rigid, conservative structure, and when I got to college I got to kind of go crazy and be free," DeWilligen said. "I used that experience to channel it into Ilsa."
Her character is thrust into adulthood after exposing the violence of her abusive father. She joins a community of gypsies and artists and begins living life free from restraints.
On the other end of the spectrum, Moritz Stiefel, played by sophomore theater arts major Nick Smith, cannot seem to free himself from societal burden.
"My character is very shy and nervous," Smith said. "He struggles with anxiety and just feels a lot of pressure on him at all times to do well."
Stiefel becomes stifled by his transition into adulthood, of which Smith said he can also relate.
"How I prepared for (the role) was just thinking about my own life, what that was in my mind that changed and how I felt," he said.
Smith said it took him a while to adapt to his more difficult, emotional scenes, but "once I did, it was just a wave of emotions."
"I was always really nervous and shy about school," Smith said, "so when I would get scared about things, I really didn't have anyone to go to, much like (Stiefel)."
Roy said she did an extended amount of research watching clips on YouTube, reading the script to the play and learning the meanings behind the lyrics.
"Every actor selfishly tries to see, 'How do I relate to this?' Everybody on stage can relate to at least one or two things and that's what we're hoping the message of the show is," Roy said. "We are all going through this together."
Roy said even though "Spring Awakening" takes place in the 1890's, the issues it tackles are still modern.
"If kids go home with their parents and they're uncomfortable during the show, but it gets their parents to start a dialogue," she said, "then I think we did our job."
Tickets are on sale now at $10 for USI students, $15 for adults, $12 for USI employees and $13 for seniors (60+) and non-USI students. Shows start at 7:30 p.m. Wednesday through Saturday and 2 p.m. Sunday. For more information, visit usi.edu/theatre or call the box office at 812-465-1668.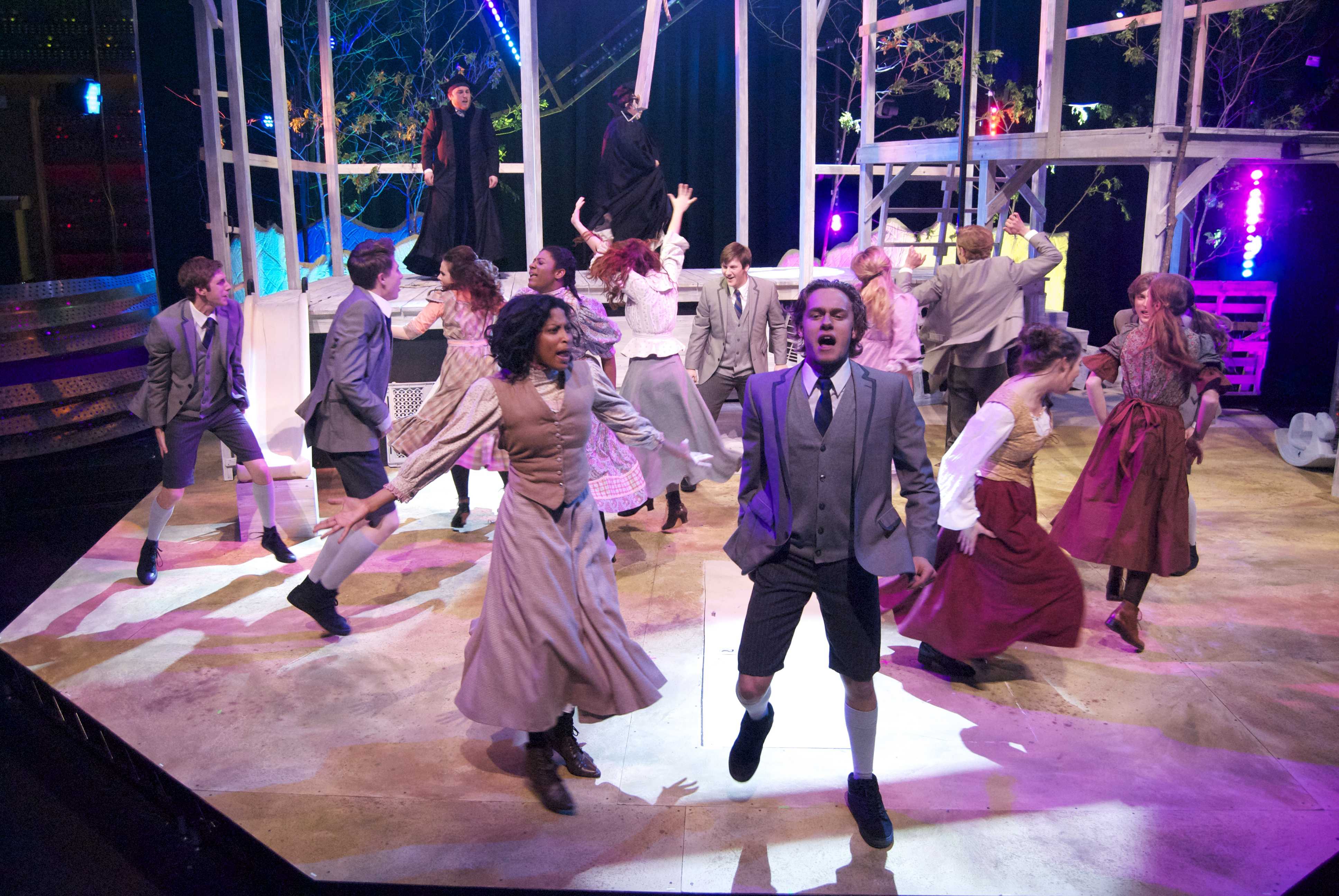 The cast of USI Theater's production of "Spring Awakening" performs a rock, musical number during Monday's dress run-through. Photo by Alyssa Smith/The Shield