Incoming SGA president moves forward with promises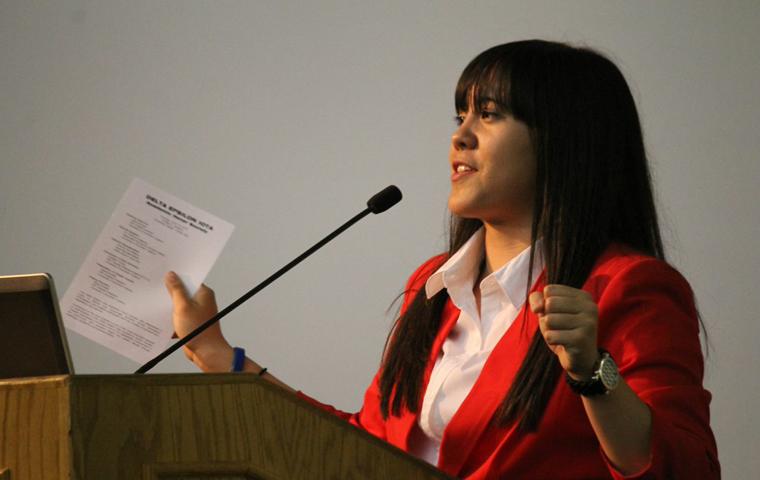 Shortly after Alexa Bueltel finished conducting her first meeting as Student Governemnt Association president, she headed down to the SGA office in the lower level of the university to make good on her campaign promises.
"I didn't want to waste any time," Bueltel said.
The junior human resources major was inaugurated as SGA president Thursday after a close run-off election against opponent Nehal Ninad. As one of the three candidates in the first contested SGA presidential race since 2011, Bueltel campaigned on promises to organize more Late Night at USI events and promote communication among groups on campus.
Bueltel said she can't wait to get started.
"I've already talked to a lot of administration about plans for next semester," she said. "We won't have to waste time in the fall. We'll be able to hit the ground running."
Born in Omaha, Nebraska, Bueltel moved with her family to Evansville when she was three years old. She attended Mater Dei High School, where she played an active part in student council.
At USI, Bueltel said she can lead SGA in a positive direction.
"I've done a lot for this organization and I've formed a lot of strong connections with students and faculty on campus," she said.
In addition to her three years in SGA, Bueltel has been involved with several other organizations, including Delta Epsilon Iota.
Bueltel founded the local chapter of the Academic Honors Society during her sophomore year. She gave up her position as president of the organization to be more of involved wiht SGA.
"I want to be able to put all my energy into SGA," Bueltel said. "I want to put all my time into it to make it bigger and better than it has been."
When the results of the first election came in April 4, neither Bueltel nor Ninad had more the 50 percent of the vote – a requirement to win. A rare run-off race began the following Monday, and Bueltel came in first with 55.1 percent of 946 votes.
This year's SGA elections saw a 60 percent increase in voter turnout compared to recent years. In 2013, 416 students voted in the SGA elections, compared to 1042 voters during this year's election.
"I hope the run-off shows students their vote really does matter," Bueltel said. "It's almost hard to believe it was that close."
Bueltel was told she won the election only a few hours before the weekly SGA meeting, where she was inaugurated and acted as sitting president for the first time.
Over the summer, Bueltel said she plans to work with administrators and faculty to help set the groundwork for next semester's projects and events.
For those who know her best, Bueltel is as driven as she is caring.
Brett Bueltel is Alexa's older brother and former member of USI's SGA. Although Bueltel said Brett was a big supporter and role model for her, Brett said he couldn't take all the credit.
"Alexa is very passionate about what she believes in, and she always has been," Brett said. "I always thought she would like SGA, but she's really excelled with it."
Brett said Alexa often helps people even if she knows she won't receive credit or praise for it. He said she usually doesn't seek out the spotlight, and didn't run for the title, but because she wants to make a change on campus.
SGA Executive Vice President Liz Downard said she didn't just support Bueltel because they were friends; she also supported her because she believed Bueltel was the best person for the job.
Downer, a junior business administration major, first met Bueltel shortly after joining SGA.
"(Bueltel) was the kind of person you couldn't help but notice," Downard said. "She seemed so much older to me, because she already knew so much about USI and was so passionate about SGA."
As the election approached, Downard and fellow SGA members Aaron McCullough, Chief Financial Officer, and Jerry Boyd, the Attorney General, decided they wanted to put their support behind Bueltel. Although presidents don't appoint positions, Downer said she wanted to see Bueltel win.
"She was the candidate who had clear plans for what she wanted to do, and she knew who to talk to and how to get it done," she said. "We knew she would take SGA into a good direction."
Bueltel will lead her first full meeting April 23. She said she is nervous, but ready to take on the challenge.