Social work majors want more than amendment to RFRA
At 8-years-old, Shelby Rothenberger's cousin moved in with she and her family after being attacked and injured for his sexual orientation.
She said he told her, "I have a heart. I believe in God. I care." And that message stuck with her even though she didn't understand it at the time.
"He loved just like everyone else," Rothenberger said. "I didn't see him as being different. I just saw him as being discriminated against."
The junior social work major was among a group of more than 25 students and faculty members who gathered in USI's Free Speech Zone Monday.
"L-G-B-T: rights for you are rights for me," the crowd chanted while sporting Indiana equality shirts and gripping rainbow-scribed posters which read messages advocating for human rights.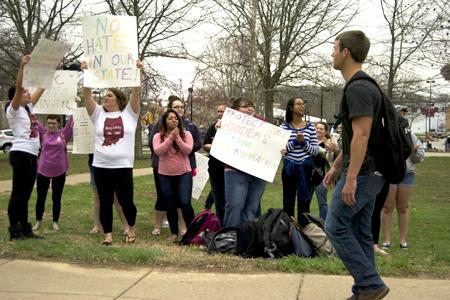 Junior social work majors Kelsey Dillow, Katie Richardson and Madison Livers organized the protest amid the heat directed at Indiana after Gov. Mike Pence signed the Religious Freedom Restoration Act into law, which opponents believe legalized LGBT discrimination.
"We, as social workers, are advocates, and it's time for people to advocate for equality in the state of Indiana," Dillow said as she clutched a sign that read "No hate for our state."
Pence signed an amendment to the law Thursday, which goes into effect July 1, to specify that it cannot be used by businesses to refuse services to members of the LGBT community.
But the protest commenced regardless because some students feel the governor's actions were not enough.
In a press conference March 31, Pence said adding the LGBT community as a protected class under human rights law was not on his agenda.
"I think everyone should be protected. It shouldn't be limited," Dillow said. "We got on the discussion in one of our social work classes and we just decided we wanted to stop talking about it and do something."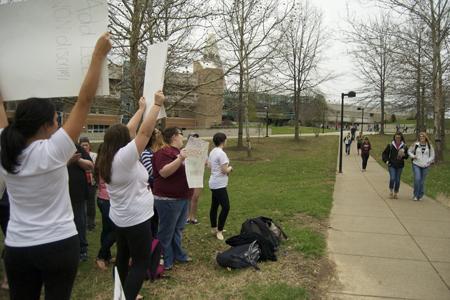 Dillow said one of her best friends received a lot of hate after coming out about his sexual orientation. She said her uncle, who also experienced discrimination after revealing his homosexuality, began receiving different treament from his family.
Administrative Associate for University Communications Angela O'Nan said having that protection is "extremely important" for Hoosiers.
O'Nan legally married her partner of 11 years, Krisi, after same-sex marriage was legalized in Indiana last summer.
"I have, in the past, been told that I didn't get a job promotion because I was gay," O'Nan said, pointing out that it did not occur at USI. "It made me angry. It was extremely frustrating."
She said the protest was a great way to inform people that although the law has been fixed, there's still a long way to go.
"I think (Pence) is really tiptoeing around the issue," she said. "I think he knew what he was doing when the law was signed."
Sophomore psychology major Olivia Summers said the law, if not amended, would have set Indiana back several decades in regard to human rights laws.
She said the fact the students were able to organize an on-campus protest "shows hope for our generation."
"It makes me feel supported, personally," Summers said.
Rothenberger said she supports equality.
"I've grown up around a lot of people in the LGBT community," she said, "and I know that they've been discriminated against unfairly."
She said she has many family members who belong to the LGBT community and has witnessed a lack of support for their lifestyle.
"I feel like they deserve to be heard and respected and recognized in the same way that straight people do," she said.
Rothenberger said although Pence amended the law, there is still a stigma surrounding LGBT and Christian folks.
"A lot of people are correlating negative things with the two (groups) and I disagree with that," she said.
Rothenberger comes from a strictly religious family and she gets frustrated because they "have it all wrong."
"In the Bible it says to love everyone and no sin conquers another," she said. "The only thing that's different between us and them is that their so called sin is on display."