Monologues provoke laughter, tears, orgasms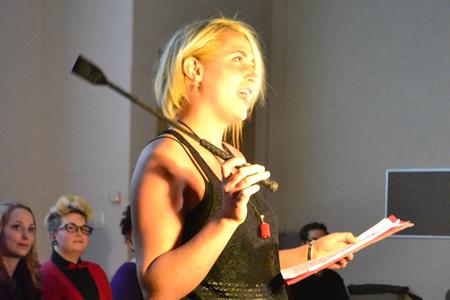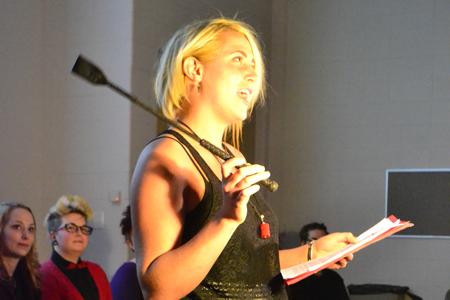 The Vagina Monologues were featured on campus for the eighth and ninth time last Wednesday and Friday in Forum II, where audience members were encouraged to "get their vaginas comfortable and enjoy the show."
The Philosophy Club, as well as the Sociology, Anthropology and Criminal Justice Studies Club, brought humor and sadness to packed audiences.
V-day is a global movement to end violence against women. The Vagina Monologues are just one aspect of V-Day used to inform people of these issues and to raise funds for local organizations that provide counseling and support to victims of sexual assault. The proceeds from this year's monologues go to Willow Tree of Posey County.
Many new faces took the stage for this year's performances, guided by many V-Day veterans.
The performers were able to choose from a myriad of monologues.
Assistant Professor of Criminal Justice Melinda Roberts said Hair was a monologue no one wanted to perform – until she stepped up to the plate.
"We give student performers the first choice. So, after all the students picked whatever they wanted to do, I picked what was left," she said.
Roberts has participated in the monologues for 15 years now. There are only three monologues that she has not performed.
During her performance of Hair, she portrayed a woman whose husband cheated on her for not "keeping a sphinx like a pussycat." The author of the monologue proclaimed that keeping hair "down there" made her feel like a woman and being bald made her feel like a little girl.
Roberts said she prepared for her performance by rehearsing in front of other performers and watching herself deliver the monologue in front of a mirror.
"The number one reason why I do this is because of the cause. It brings awareness to violence against women, not only locally but internationally as well," she said. "I think people need to be aware that it is something that is going on and that it's so prevalent. So I guess my passion for ending violence is what gets me to do this."
The performers earned loud applause, laughter and a few tears for acting out various moans and delivering jokes as well as heartbreaking tales about the female way of life.
"Tonight's audience was one of the best," Roberts said after Friday's performance. "They were very lively, they wanted to laugh at everything and I could tell they really felt the sad pieces."
Roberts said she noticed that people are really starting to show an interest in the cause and effect of the monologues.
Junior Jordan Terrell attended her first Vagina Monologues Friday evening and said it was everything she expected it to be.
"The monologues have a little segment on Netflix and I was really moved by it, so I decided to come to this one," she said. "It was outstanding, I learned that seventy-two-year-old women can orgasm!"
Many of the participants performed comedic sketches, but there were some heart-tugging ones as well.
"My Vagina Was My Village," read by Sarah Canor was a tear-jerking story about a Bosnian woman subjected to rape camps.
Terrell said "My Vagina Was My Village" was the only monologue that made her uncomfortable because of the detailed imagery created by the reader.
The monologue that seemed to get the biggest laugh was "The Woman Who Loved To Make Vaginas Happy," in which a sex worker for women discusses the details of her career and her love of giving women pleasure. The reader ended the performance with a vocal demonstration of a "triple orgasm."
Alex Levine, a six year V-Day vet and USI graduate with a degree in psychology, blew the audience away with her adaptation of the role.
Levine said she practiced the monologue, during which she acts out a sex scene on the floor in front of the audience, by "having a lot of sex and trying to remember all the noises while doing it."
"I like this monologue because it is sexual and I studied sexual ethics and studied women's studies," Levine said. "I used to want to get into sexual therapy and I think that sex is a really important part of being a woman."