Food expo attracts fans from all over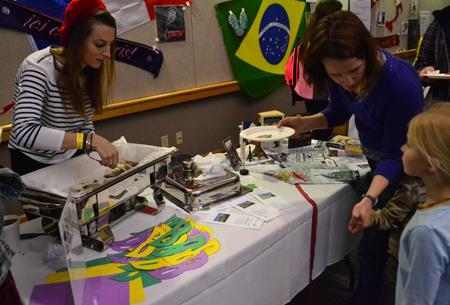 The International Food Expo proved to be a hit, once again.
Carter Hall was filled to the brim Friday as international club members, students and faculty alike lined up for worldly treats and entertainment.
International Club President Giselle Fernandez said she expected that outcome from the expo this year.
"It's definitely getting more popular," she said.
Five hundred tickets were sold; approximately 350 of them prior to the event.
By 11 a.m., 30 minutes after the expo began, only 50 tickets remained.
Guests were given a "munchie map" at the door that highlighted what dishes were at which booths. With munchie map and plate in hand, they were given free reign to try anything they wanted and as much of it as they wanted.
"Getting here at six this morning was the most stressful," Fernandez said. "Everyone was cooking and running around making sure everything was ready. It is a lot of work."
Guests were provided with nonstop entertainment throughout the expo; the longest break between performances was 20 minutes. Performances included a Soran Boosh Dance, Japanese songs, an international fashion show, an Arabic poem reciting and an ocarina performance.
Twenty-four countries were represented by food from Malaysian fried rice to American apple pie.
"I usually don't eat because I'm walking around making sure everything is going well, but I know it's all good," Fernandez said.
Bianca Benoist, a pre-law student from France, represented her culture by serving Nutella crepes while clad in blue stripes and a red beret.
"I like it because, for me, it's not really a big deal, but everyone else is like, 'Oh, wonderful. Crepes!' I feel like people are really interested in discovering the different tastes of the world," she said.
Benoist challenged herself to try food from every booth, she said.
"I'm really excited to try all of the Japanese and Asian booths because I don't really eat that kind of food in Europe," she said.
Benoist said if given the chance, she would participate in the expo again.
Allyson Blunt, a sophomore nursing major, has been frequenting the International Food Expo since her sophomore year of high school.
"I live in Mount Vernon and my Spanish teacher used to bring us," she said.
Blunt said she continues to attend the expo because of the atmosphere and good food.
"I can't pick a favorite because its all so good, but I really liked Venezuela's dish – tequenos."
Blunt enjoyed the expo so much that she brought a friend to experience it this year.
Rachael Peyton, a senior psychology and international studies double major attended her first International Food Expo this year.
"I like that all the countries come together in one place and all of us are able to experience that and different parts of the world," she said.
Peyton's favorite dish was Ecuador's Arroz con Pollo
"It was definitely worth the $10," she said.
A portion of the proceeds generated from ticket sales went to The Potter's Wheel ministries.