Struggling UNIV courses aim to get students on track
Hang on for a minute...we're trying to find some more stories you might like.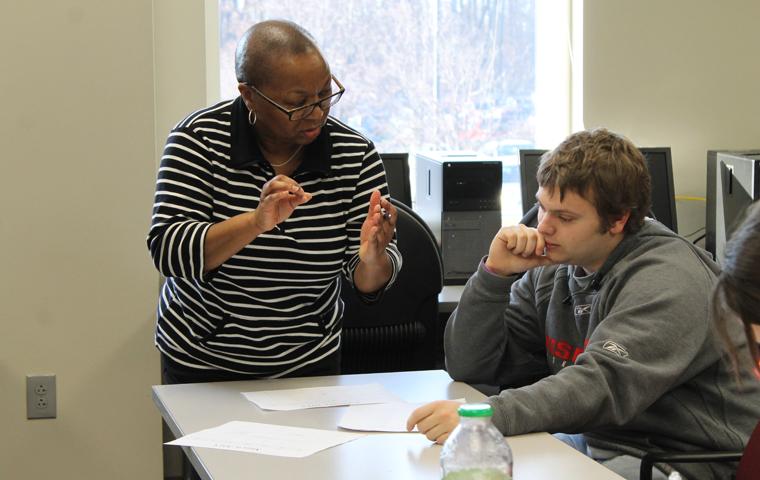 Marlee Sims does not want to become a farmer, go into the lawn care service or enlist in the army.
Despite having no interest in or experience with these careers, the results of her Strong Interest Inventory — a career inventory interpreted by a career readiness adviser at University Division — revealed that these jobs were what she had to look forward to.
Sims took the survey last fall through UNIV 101, a freshmen seminar course that is meant to help students manage the transition to college and take advantage of involvement opportunities on campus.
The course became a requirement for all freshmen with the implementation of Core 39 last year in an attempt to increase university retention.
Boring but bountiful
The course has been met with both criticism and praise. Sims took the health professions UNIV 101 in the fall while en route to a degree in nutrition.
When a career readiness adviser came to the class to offer career advice, Sims sought her help outside of class and eventually retook the test.
"The second time I did it, I felt more comfortable and had more research," Sims said. "The test really helped me see where I am."
The new results revealed Sims was suited for physical or special education.
Sims, who is now a physical education major, will begin job shadowing at local schools later this month.
"That's what I enjoyed about that class," Sims said. " It helped me find things that were more accurate to myself."
Despite the potentially life-changing experience that Sims had with the course, she said she still "dreaded" attending.
"I wasn't too fond of the class. It was really boring, especially as a freshmen, because you're so lost," Sims said. "I think it is a good class to have honestly, but I didn't like the fact that I was paying for it."
She said that although the class was dull, there are takeaways she has found very helpful.
"You can take parts from the class with you, or you can go on your four years clueless," Sims said.
She said UNIV 101 could be improved by incorporating more interactive days, like when her class did a scavenger hunt or learned about partnership and leadership.
She learned more, she said, when guests would speak to the class or when they were doing engaging activities as opposed to just being lectured to.
If it weren't for UNIV 101, she would have never even considered switching majors, and would be "miserable" at USI, she said.
"That class totally benefitted me in my career choice," Sims said, "and in where I am going now."
Working out the kinks
Executive Consultant for Noel-Levitz Calire Berardini expressed the university's concerns about the structure of UNIV 101 at the spring university meeting in January.
"In every college and university that I've worked for and with as a consultant, there's been a lot of differing opinions and points-of-view on a campus as to what should be covered in a course like UNIV 101," Berardini said.
USI is not unique in that regard.
Assistant Vice President for Academic Success Michael "Brody" Broshears said a lot was learned coming out of the university's first attempt at delivering UNIV 101 to all incoming students.
"I think we are trying the best we can to move this in a direction that provides a more consistent format," Broshears said. "But also allows for the flexibility of faculty to make the course their own."
Every instructor teaches the class based on their own abilities and expertise, which can create a vast variation in students' experiences with the course.
Broshears said, despite talk of trouble he's heard, the first semester went well and helped uncover kinks that needed to be corrected.
Having the classes once a week for 15 weeks didn't work for everyone, he said.
"I think we need to be meeting with first year students more often earlier in the semester," he said.
This spring, the course started offering UNIV 101 twice a week for ten weeks.
Fifty new students are enrolled this spring.
"There are lots of components that we tried to fit into the class that I think, in some ways, may have constrained faculty in terms of what they covered," Broshears said.
He said they are modifying the course to create more freedom for faculty to make the course their own, but keeping in mind that every faculty member needs to meet the learning outcomes.
Broshears said they have worked closely with faculty to get feedback on the course.
They had an instructor luncheon Jan. 29, to discuss challenges UNIV 101 instructors faced.
Broshears said one of the big things they discussed was the importance of journaling and connecting students to advisers from their respective college.
As a required component of the course, students were asked to attend the Eagle Experience the Saturday before school started in August.
There were additional components to the course, such as modular (videos), which didn't upload correctly, causing some students to not be able to view them.
"This fall, we are going to really use Eagle Experience as an introduction to the UNIV 101 course," Broshears said.
There will be no additional requirements following that day, however.
"We are going to really reconfigure that Saturday experience to be more interactive and get at some of the initial goals the Eagle Experience was initially designed to meet," Broshears said.
He said the Eagle Experience lasted three hours and the university is looking to make it shorter, feed the students and turn it into more of a celebration of starting something new.
About 1,400 of the 1,535 who were enrolled in UNIV 101 in attended the event in the fall, which Broshears considers a success.
The university plans to taking advantage of those numbers by incorporating some elements of the course.
"A lot of what we teach in UNIV 101, students don't automatically realize is stuff that they're going to need to be successful in their college career," he said. "So they don't bank on it right away having a tremendous impact."
Probation problems
The probation rate of freshmen at USI increased by 2 percent in 2014.
To improve the recovery rate of freshmen on probation, 10 to 12 sections of a UNIV 091x, an academic recovery seminar began this semester, and is meeting over a five-week period. The x stands for experimental.
UNIV 091x is a a free, additional academic course for students who are put on probation during their first year, but passed their UNIV 101 course.
"The goals of the course are pretty simple, and that is, we want students to rebuild confidence, develop skills and get back on track," Broshears said.
The course's content is designed to help students assess the reason for their first semester struggles, he said, whether it is trouble studying, poor time management or a family crisis.
"For other students, there may be personal situations that impacted their success, they had to work too much or maybe there was some kind of family tragedy that may have impacted a student's ability to be successful," Broshears said.
Providing students with a formal opportunity to assess what went wrong is the first step to correcting and developing behaviors, he said.
Some students struggle because they are in the wrong major.
Renee Rowland, director of advising for the College of Liberal Arts, said students don't understand that if they drop or fail a class, they can lose their financial aid.
"Over winter break, I was emailing back and forth with a student on financial aid who failed all of her classes last semester," Rowland said.
She said she asked the student what her spring semester plan was and let her know she wouldn't be eligible for financial aid.
Financial Aid sends this information to every student that receives tuition assistance, it is also available through my.usi.edu, but students don't look at that, she said.
Rowland said she tries to express to the students the importance of doing well each semester to remain eligible for aid.
"I think students look at going to college as a right, and it's an opportunity," she said. "Just because you want to do something doesn't mean you're going to be allowed to do it."
She had a student tell her he was improving, so she asked him to pull up the grades for his past three exams.
He received a 40 percent on his first exam, a 50 percent on the second and around a 60 percent on the third, she said.
"So he had an F in the class, but he was telling the truth, he was improving," Rowland said.
One student said she was a 21 Century scholar, but didn't get her FAFSA in on time, so she couldn't get aid for this year, Rowland said.
"That is the importance of meeting with the students individually, so they can understand what's at stake." Rowland said.
A lot of students don't understand that dropping classes can affect the amount of financial aid they receive and impact their completion rate.
"You can have a 4.0, but if you've been dropping classes and your completion rate is below 67 percent, you can go on financial aid warning," Rowland said.
At the beginning of the course, they had "syllabus reconnaissance," which asked all students to bring in their course syllabi.
"Students don't realize that we don't have a standard grading scale or standard attendance policy," she said.
During Monday's class, Rowland said she had her students create a reading schedule for their courses.
One students had a test the following Monday over four chapters and he hadn't read a single one.
She said he thought that going to class and taking notes would be sufficient enough to improve his grade.
Rowland said she paired him up with three students who were doing well in the course.
"You need to befriend someone in all of your classes so if you miss, you can get notes form them, find out what you missed, you can form a study group," she said. "Anything that's going to make you spend more time with the information."
Rowland said she is confident 15 of her 18 students will return to good standing this semester.
"You can lead a horse to water, but you can't make them drink," Rowland said. "You can't make them use these strategies, and that's the frustrating part."